Their First Electronic Woodwind Instrument – the Wi100
Shenzhen, China – March 16th, 2023
---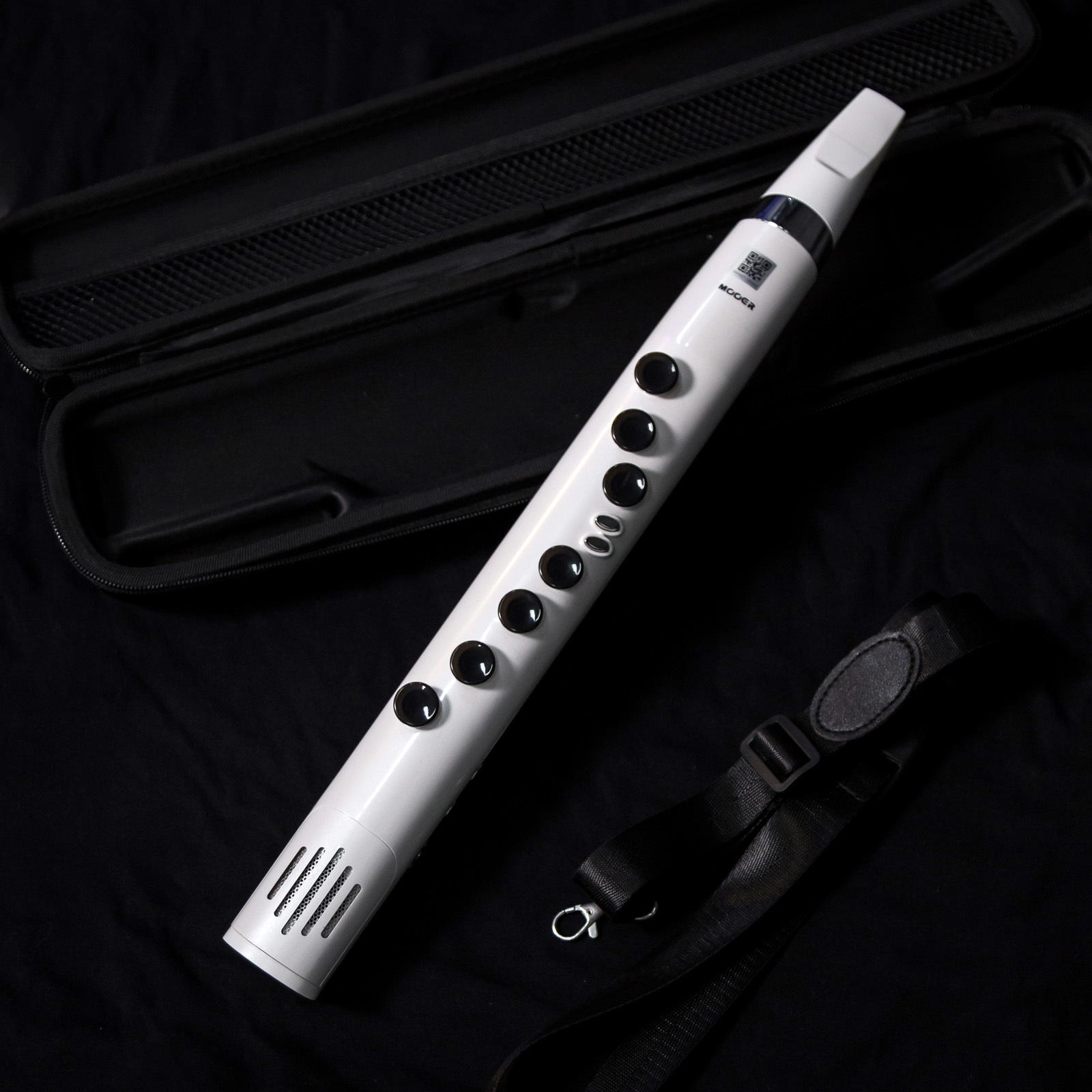 MOOER Audio breaks into the wind instrument market with their first digital woodwind instrument. The Wi100 features a three-octave range, pitch shifter, and over 30 tones including pure recreations of classic wind instruments as well as modern electronic tones and synth effects for musical exploration and experimentation. Featuring an easy to learn recorder-style key layout with built-in switch LEDs, the Wi100 can be learned quickly whether by an experienced professional or beginner. Utilizing the LEDs, pre-programmed practice modes are also included to get started learning quickly. A wide variety of input and output options are packed in to the Wi100 as well. Get started right away with the built-in speaker that's perfect for acoustic jams. Using the built-in speaker, the Wi100 maintains a battery life of 6.5 hours. To achieve a longer battery life of up to 15 hours, use the audio output jack to a FRFR speaker, amplifier, or audio interface. Headphones are also supported for silent practice sessions and OTG output works for recording directly to a mobile device. Bluetooth and auxiliary audio are also included for playback through compatible devices. Seven preset slots are included in the Wi100 and they can be easily managed by downloading the dedicated Wind app for iOS and Android, similar to other applications MOOER has released for their guitar products. The Wind application also facilitates firmware updates to keep the Wi100 up to date with the latest features.
Features
Easy recorder-style layout suitable for beginners and professionals

Switch LED with 7 different colors to indicate preset tones or provide technique tips

7 storable preset slots and 30 different sample tones and synthesizer tones, covering everything from classic to modern styles

Unique angel chorus tone

Can be paired with a dedicated App for quick preset adjustments and firmware updates

Learn and practice your new performance skills by following the built-in switch LEDs

Three octave range and pitch shifter for 12 different pitches

Built-in speakers

Bluetooth and auxiliary audio functions for audio playback from mobile audio devices

Audio output for connecting to FRFR systems for live performance

Supports headphones for silent practice

Supports OTG to directly record on your mobile device for live streaming or video recording

Built-in rechargeable battery with up to 6.5 hour battery life when using internal speaker or up to 15 hours when using the audio output jack

Sleep mode for saving battery
The Wi100 will be available from official MOOER dealers and distributors worldwide on March 16th, 2023.