Commodity name:

Audiofile

Commodity ID:

1087702376182861824

Pedal Headphone Amplifier

Audiofile

AUDIOFILE is an all analog, hi-fi quality, pedalboard headphone amplifier. This class A amplifier circuit will bring a smile to the faces of even the most disconcerting of audio addicts. Hook up AUDIOFILE as the last unit in your signal chain and leave it there as a permanent resident on your board.


Connect your headphones and activate the analog cab sim for totally immersive practice sessions.


When playing live the AUDIOFILE can be completely bypassed or used as an excellent "always-on" signal buffer/booster with the cab sim turned off.
Purity, warmth, dynamics and retention of tone are the name of the game with AUDIOFILE.

Main Features

*Professional headphone amplifier, specifically designed for use with guitar and bass pedalboards Utilizes an analog Class A amplification circuit. Ensuring instrument and effects maintain purity, warmth and a high level of dynamics.

*Stereo and Mono inputs, stereo and mixed mono outputs


*Optional built in analog speaker cabinet simulation


*Doubles up as a signal boost/buffer when not being used for headphone amplification


*True bypass means AUDIOFILE can become a permanent resident on your pedalboard even when not in use.

Specifications

Input: 1/4"audio jack. Stereo or Mono (impedance 2.2M)

Output: 1/4"audio jack. Stereo or mono 1/8" audio jack stereo (impedance 24Ω)

Power supply: 9V DC power supply

Working current: 50mA

Size: 93.5mm (D) x 42mm (W) x 52mm (H)

weight:150g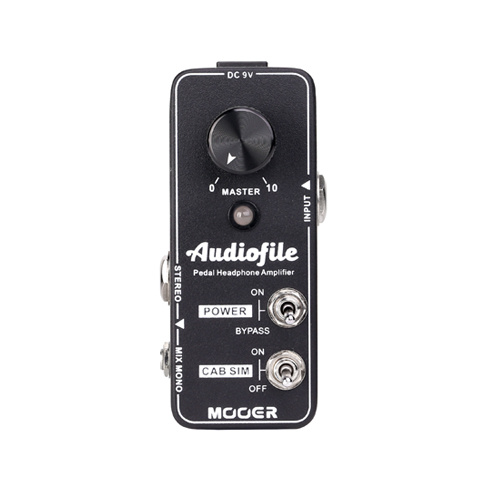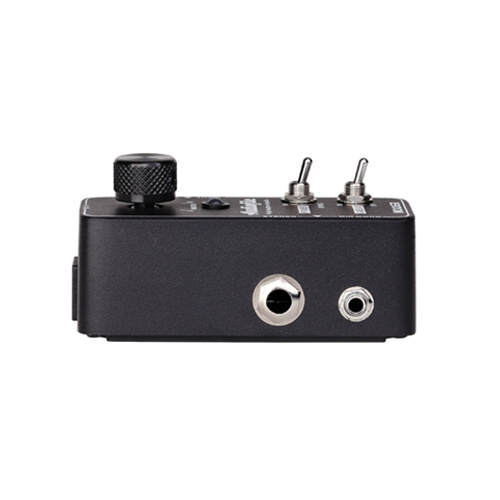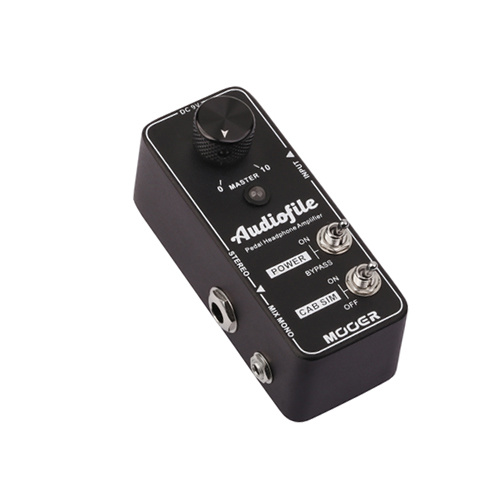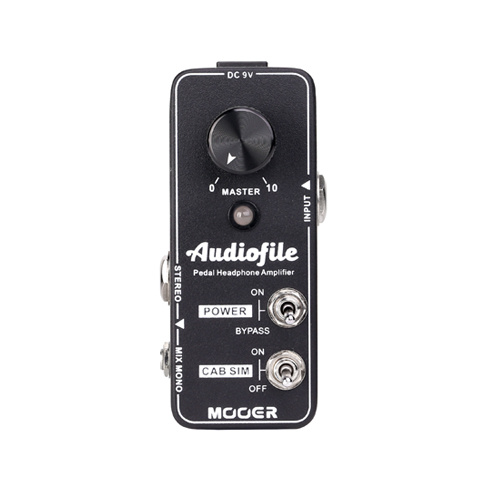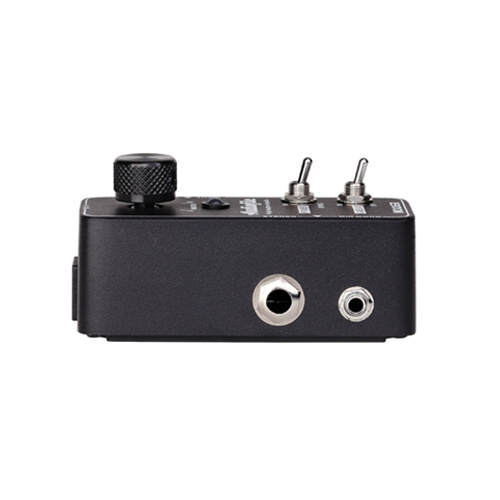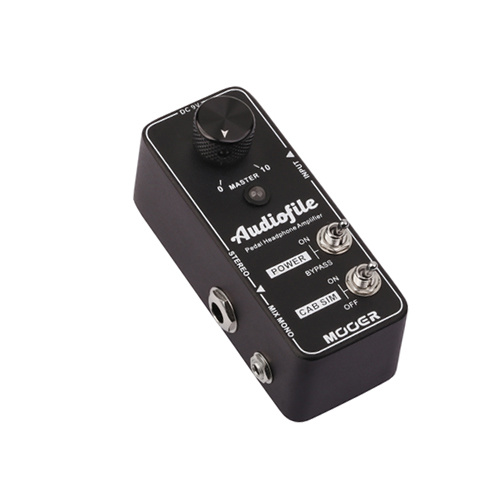 Audiofile
Pedal Headphone Amplifier
Audiofile
AUDIOFILE is an all analog, hi-fi quality, pedalboard headphone amplifier. This class A amplifier circuit will bring a smile to the faces of even the most disconcerting of audio addicts. Hook up AUDIOFILE as the last unit in your signal chain and leave it there as a permanent resident on your board.

Connect your headphones and activate the analog cab sim for totally immersive practice sessions.

When playing live the AUDIOFILE can be completely bypassed or used as an excellent "always-on" signal buffer/booster with the cab sim turned off.
Purity, warmth, dynamics and retention of tone are the name of the game with AUDIOFILE.
Features
Connections
Specification
Demo
Main Features

*Professional headphone amplifier, specifically designed for use with guitar and bass pedalboards Utilizes an analog Class A amplification circuit. Ensuring instrument and effects maintain purity, warmth and a high level of dynamics.

*Stereo and Mono inputs, stereo and mixed mono outputs


*Optional built in analog speaker cabinet simulation


*Doubles up as a signal boost/buffer when not being used for headphone amplification


*True bypass means AUDIOFILE can become a permanent resident on your pedalboard even when not in use.

Specifications

Input: 1/4"audio jack. Stereo or Mono (impedance 2.2M)

Output: 1/4"audio jack. Stereo or mono 1/8" audio jack stereo (impedance 24Ω)

Power supply: 9V DC power supply

Working current: 50mA

Size: 93.5mm (D) x 42mm (W) x 52mm (H)

weight:150g
Main Features

*Professional headphone amplifier, specifically designed for use with guitar and bass pedalboards Utilizes an analog Class A amplification circuit. Ensuring instrument and effects maintain purity, warmth and a high level of dynamics.

*Stereo and Mono inputs, stereo and mixed mono outputs


*Optional built in analog speaker cabinet simulation


*Doubles up as a signal boost/buffer when not being used for headphone amplification


*True bypass means AUDIOFILE can become a permanent resident on your pedalboard even when not in use.

Specifications

Input: 1/4"audio jack. Stereo or Mono (impedance 2.2M)

Output: 1/4"audio jack. Stereo or mono 1/8" audio jack stereo (impedance 24Ω)

Power supply: 9V DC power supply

Working current: 50mA

Size: 93.5mm (D) x 42mm (W) x 52mm (H)

weight:150g
Main Features

*Professional headphone amplifier, specifically designed for use with guitar and bass pedalboards Utilizes an analog Class A amplification circuit. Ensuring instrument and effects maintain purity, warmth and a high level of dynamics.

*Stereo and Mono inputs, stereo and mixed mono outputs


*Optional built in analog speaker cabinet simulation


*Doubles up as a signal boost/buffer when not being used for headphone amplification


*True bypass means AUDIOFILE can become a permanent resident on your pedalboard even when not in use.

Specifications

Input: 1/4"audio jack. Stereo or Mono (impedance 2.2M)

Output: 1/4"audio jack. Stereo or mono 1/8" audio jack stereo (impedance 24Ω)

Power supply: 9V DC power supply

Working current: 50mA

Size: 93.5mm (D) x 42mm (W) x 52mm (H)

weight:150g
Main Features

*Professional headphone amplifier, specifically designed for use with guitar and bass pedalboards Utilizes an analog Class A amplification circuit. Ensuring instrument and effects maintain purity, warmth and a high level of dynamics.

*Stereo and Mono inputs, stereo and mixed mono outputs


*Optional built in analog speaker cabinet simulation


*Doubles up as a signal boost/buffer when not being used for headphone amplification


*True bypass means AUDIOFILE can become a permanent resident on your pedalboard even when not in use.

Specifications

Input: 1/4"audio jack. Stereo or Mono (impedance 2.2M)

Output: 1/4"audio jack. Stereo or mono 1/8" audio jack stereo (impedance 24Ω)

Power supply: 9V DC power supply

Working current: 50mA

Size: 93.5mm (D) x 42mm (W) x 52mm (H)

weight:150g
X
Main Features

*Professional headphone amplifier, specifically designed for use with guitar and bass pedalboards Utilizes an analog Class A amplification circuit. Ensuring instrument and effects maintain purity, warmth and a high level of dynamics.

*Stereo and Mono inputs, stereo and mixed mono outputs


*Optional built in analog speaker cabinet simulation


*Doubles up as a signal boost/buffer when not being used for headphone amplification


*True bypass means AUDIOFILE can become a permanent resident on your pedalboard even when not in use.

Specifications

Input: 1/4"audio jack. Stereo or Mono (impedance 2.2M)

Output: 1/4"audio jack. Stereo or mono 1/8" audio jack stereo (impedance 24Ω)

Power supply: 9V DC power supply

Working current: 50mA

Size: 93.5mm (D) x 42mm (W) x 52mm (H)

weight:150g