Commodity name:

Jet Engine

Commodity ID:

1087702471108349952

Take off to the skies with the JET ENGINE dual flanger pedal from MOOER. This Micro sized modulation stompbox, packs two different digital algorithms which can beautifully

recreate all your favourite analog flange effects from the 70's and 80's. The beauty of it being digital is that all of the effect parameters are extremely flexible.

Switching between H.FLANGER and B.FLANGER will change the frequency range of the modulation providing anything from warm classic filtering to pristine hi fi style swooshyness.

The DEPTH and WIDTH controls provide the ability to adjust the oscillation range and intensity to really dial in your tone.

Coupled together with a standard RATE control and a mix LEVEL adjustment, JET ENGINE can be as subtle or as crazily 'in your face' as you could possibly desire.

It wouldn't be right if we didn't add some extra hidden surprise with this little pedal. Press and hold down the footswitch for a moment and JET ENGINE will engage full afterburners as the feedback ramps up to extreme heights.

A very versatile, highly tweakable and incredibly fun modulation pedal….

*Two different flange pedals in one

*Highly versatile controls with a vast range of adjustability

*Real-time feedback ramp control for crazy special effects

*Tiny footprint

*Heavy duty, all metal construction

*Input:1/4" mono audio jack.(Impedance: 470k Ohms)
*Output:1/4" mono audio jack(Impedance: 100 Ohms)
*Power requirements: AC adapter 9V DC , center negative.
*Highly recommend to use Mooer Micro Power.
*Current Draw: 160mA
*Dimensions: 93.5mm(D) x 42mm(W) x 52mm(H)
*Weight: 146g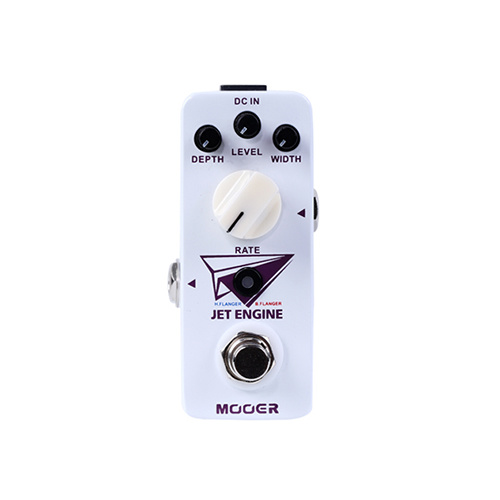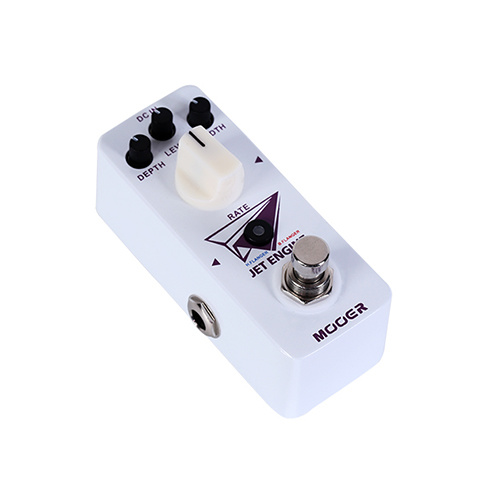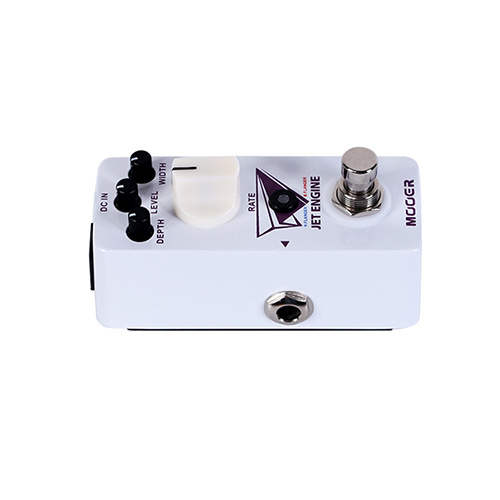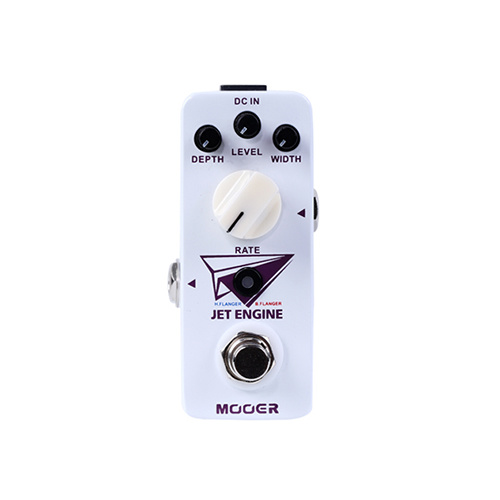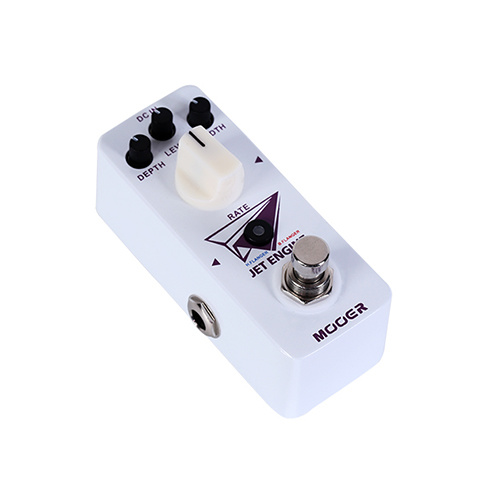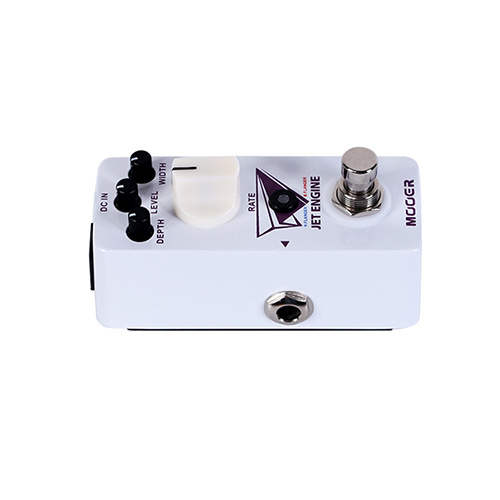 Take off to the skies with the JET ENGINE dual flanger pedal from MOOER. This Micro sized modulation stompbox, packs two different digital algorithms which can beautifully
recreate all your favourite analog flange effects from the 70's and 80's. The beauty of it being digital is that all of the effect parameters are extremely flexible.
Switching between H.FLANGER and B.FLANGER will change the frequency range of the modulation providing anything from warm classic filtering to pristine hi fi style swooshyness.
The DEPTH and WIDTH controls provide the ability to adjust the oscillation range and intensity to really dial in your tone.
Coupled together with a standard RATE control and a mix LEVEL adjustment, JET ENGINE can be as subtle or as crazily 'in your face' as you could possibly desire.
It wouldn't be right if we didn't add some extra hidden surprise with this little pedal. Press and hold down the footswitch for a moment and JET ENGINE will engage full afterburners as the feedback ramps up to extreme heights.
A very versatile, highly tweakable and incredibly fun modulation pedal….
Features
Connections
Specification
Demo
*Two different flange pedals in one

*Highly versatile controls with a vast range of adjustability

*Real-time feedback ramp control for crazy special effects

*Tiny footprint

*Heavy duty, all metal construction

*Input:1/4" mono audio jack.(Impedance: 470k Ohms)
*Output:1/4" mono audio jack(Impedance: 100 Ohms)
*Power requirements: AC adapter 9V DC , center negative.
*Highly recommend to use Mooer Micro Power.
*Current Draw: 160mA
*Dimensions: 93.5mm(D) x 42mm(W) x 52mm(H)
*Weight: 146g
*Two different flange pedals in one

*Highly versatile controls with a vast range of adjustability

*Real-time feedback ramp control for crazy special effects

*Tiny footprint

*Heavy duty, all metal construction

*Input:1/4" mono audio jack.(Impedance: 470k Ohms)
*Output:1/4" mono audio jack(Impedance: 100 Ohms)
*Power requirements: AC adapter 9V DC , center negative.
*Highly recommend to use Mooer Micro Power.
*Current Draw: 160mA
*Dimensions: 93.5mm(D) x 42mm(W) x 52mm(H)
*Weight: 146g
*Two different flange pedals in one

*Highly versatile controls with a vast range of adjustability

*Real-time feedback ramp control for crazy special effects

*Tiny footprint

*Heavy duty, all metal construction

*Input:1/4" mono audio jack.(Impedance: 470k Ohms)
*Output:1/4" mono audio jack(Impedance: 100 Ohms)
*Power requirements: AC adapter 9V DC , center negative.
*Highly recommend to use Mooer Micro Power.
*Current Draw: 160mA
*Dimensions: 93.5mm(D) x 42mm(W) x 52mm(H)
*Weight: 146g
*Two different flange pedals in one

*Highly versatile controls with a vast range of adjustability

*Real-time feedback ramp control for crazy special effects

*Tiny footprint

*Heavy duty, all metal construction

*Input:1/4" mono audio jack.(Impedance: 470k Ohms)
*Output:1/4" mono audio jack(Impedance: 100 Ohms)
*Power requirements: AC adapter 9V DC , center negative.
*Highly recommend to use Mooer Micro Power.
*Current Draw: 160mA
*Dimensions: 93.5mm(D) x 42mm(W) x 52mm(H)
*Weight: 146g
X
*Two different flange pedals in one

*Highly versatile controls with a vast range of adjustability

*Real-time feedback ramp control for crazy special effects

*Tiny footprint

*Heavy duty, all metal construction

*Input:1/4" mono audio jack.(Impedance: 470k Ohms)
*Output:1/4" mono audio jack(Impedance: 100 Ohms)
*Power requirements: AC adapter 9V DC , center negative.
*Highly recommend to use Mooer Micro Power.
*Current Draw: 160mA
*Dimensions: 93.5mm(D) x 42mm(W) x 52mm(H)
*Weight: 146g