Commodity name:

Hornet

Commodity ID:

1087702392087662592

Hornet

The MOOER HORNET is a 15 Watt guitar amplifier with everything you need to get started as a beginner, or to use at home for practice. This little box sports 9 amp models of assorted styles and an array of built-in effects. The custom 6.5" speaker is perfectly tuned to deliver amazing tone and a big sound for such a small unit. The HORNET's tiny size makes it portable and completely unobtrusive, whilst it's classic stylings will ensure it will fit-in nicely at any homestead.

HORNET Black is designed for high gain player, especially for the metal and hard rock guitarists.

Hornet White is a small desktop style amplifier with fresh design, intuitive control. With 9 different types of amp modes, Hornet White allows you to play with your guitar, bass guitar or even acoustic guitar to approach your favourite tone.

Main Features

* 9 high quality digital amp models

* Modulation, delay and reverb effects with independent tap tempo

* Store and recall up to 9 user presets

* Precision instrument tuner

* 2 operation modes LIVE/PRESET

* Wireless Bluetooth connectivity and AUX IN for audio playback from an external device

* Dedicated headphones output

* Custom 6.5" guitar speaker

*15Watt RMS

Inputs: 1/4" instrument signal input interface (impedance 1M)3.5MM AUX IN audio interface (impedance 10K)

Output: 3.5MM headphone stereo audio interface (impedance 47 ohms)

Sampling rate:48k

Sampling accuracy:32 bit

Power supply: DC 18V ≥ 2000mA Power adapter (internal negative external)

Size: 290mm (W) x 173 (D) x 255mm (H)

Speaker: 6.5" impedance of 4 ohms

Rated power: 15W

Peak power: 20W

Weight: 2.9KG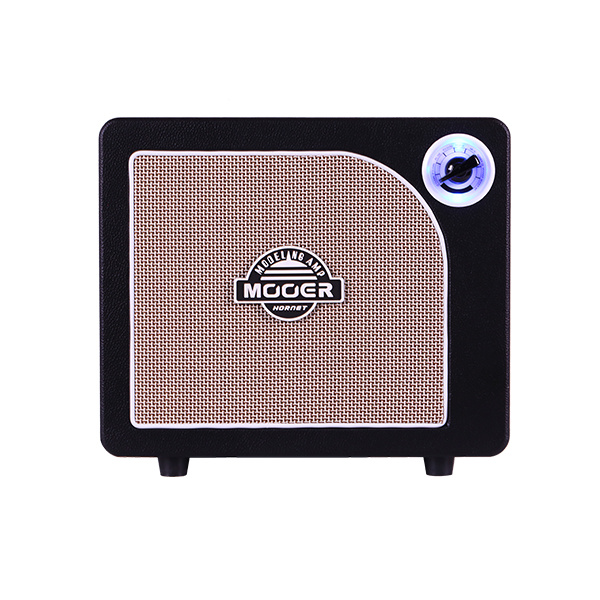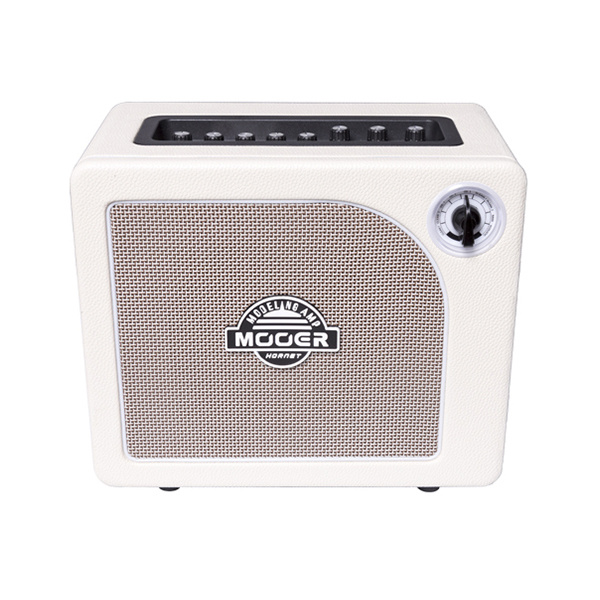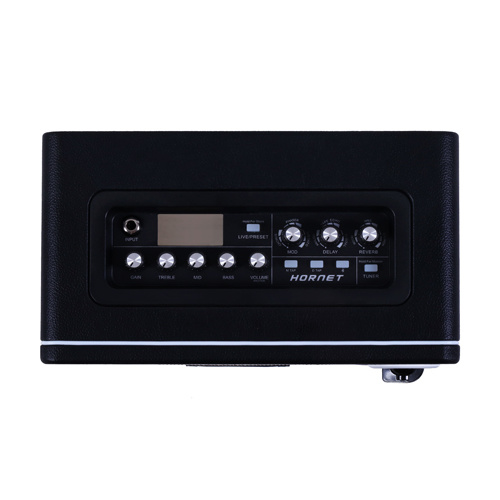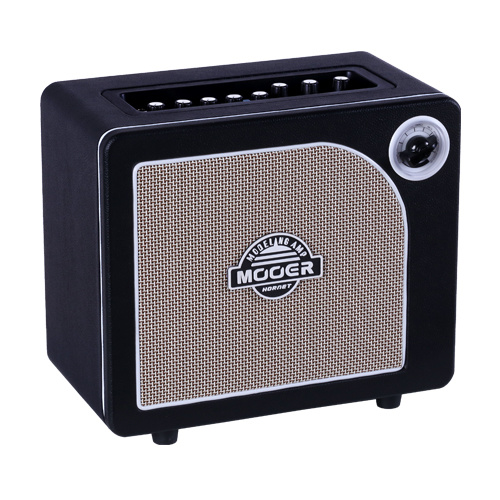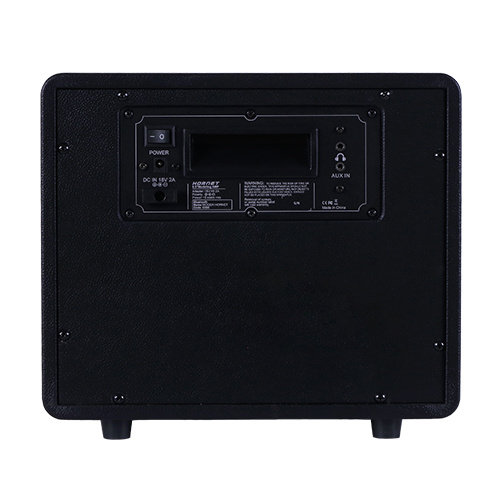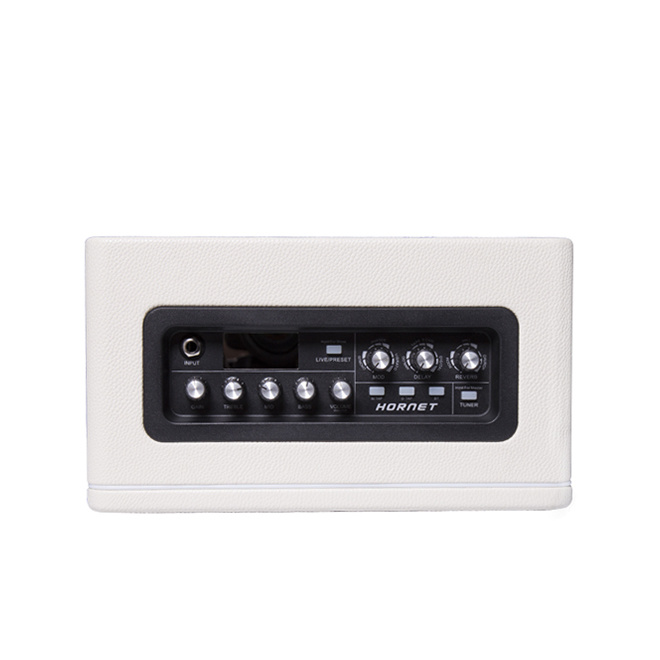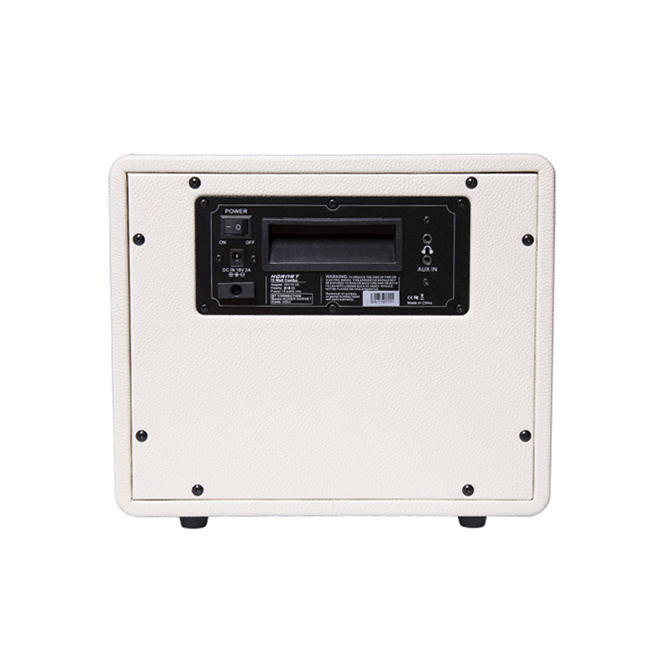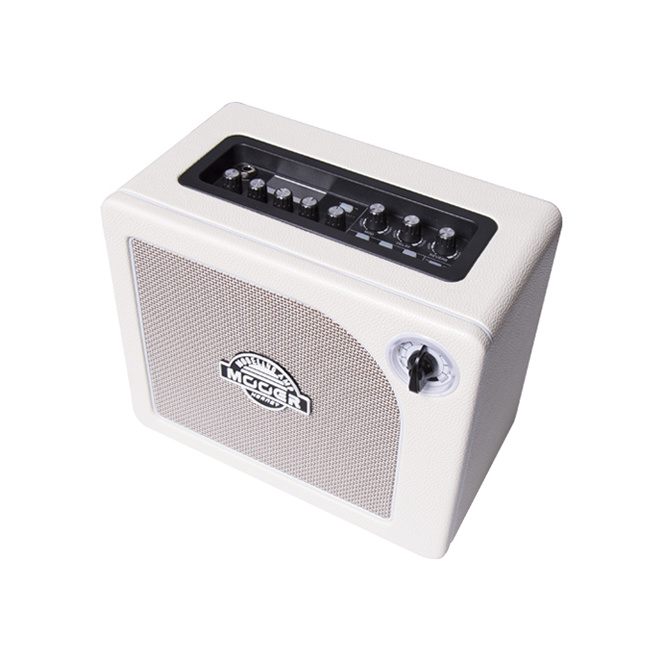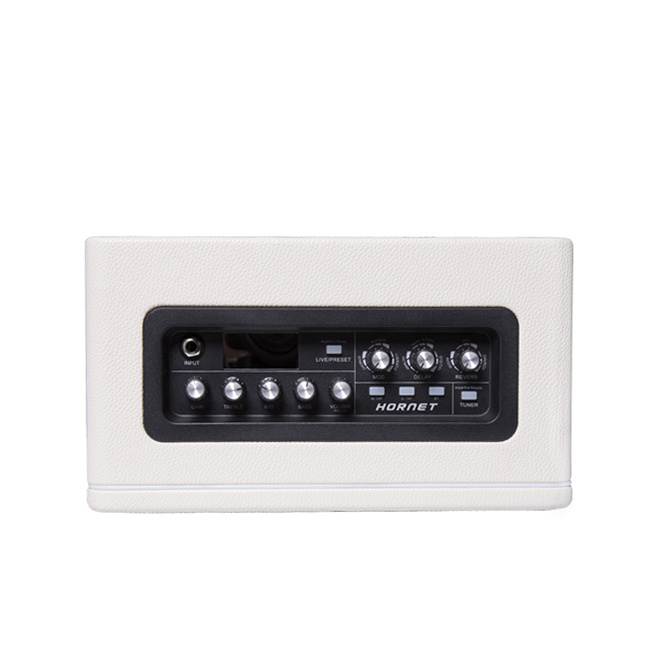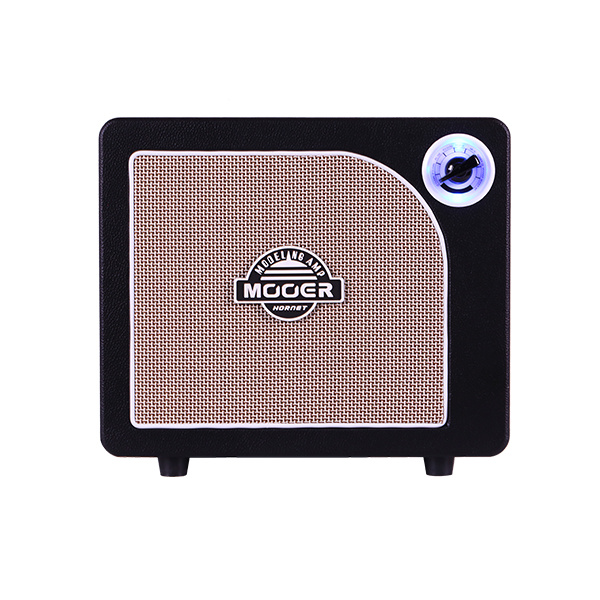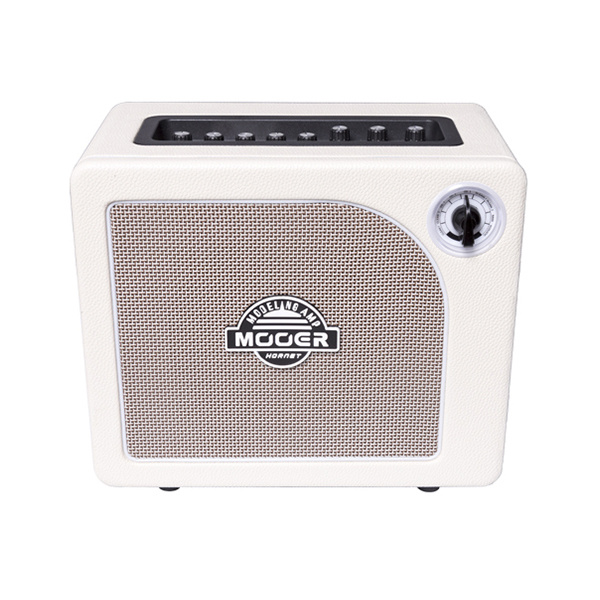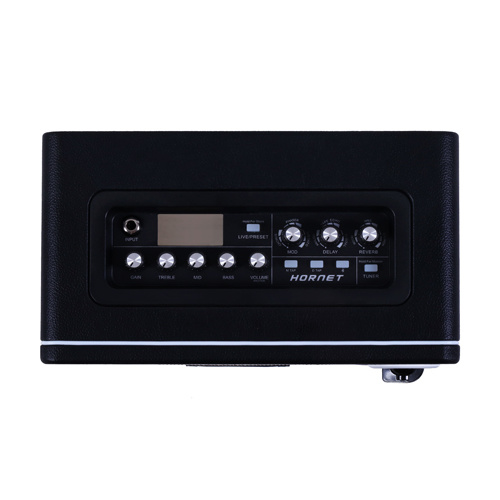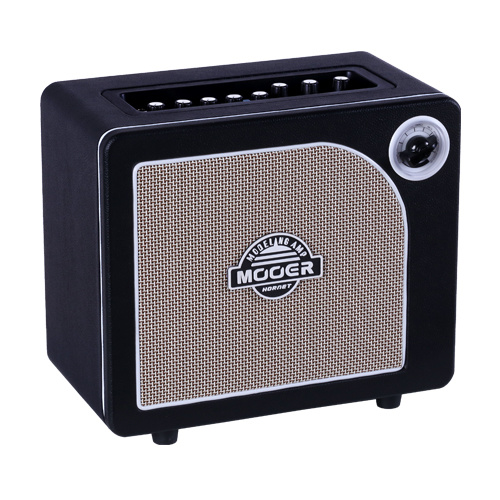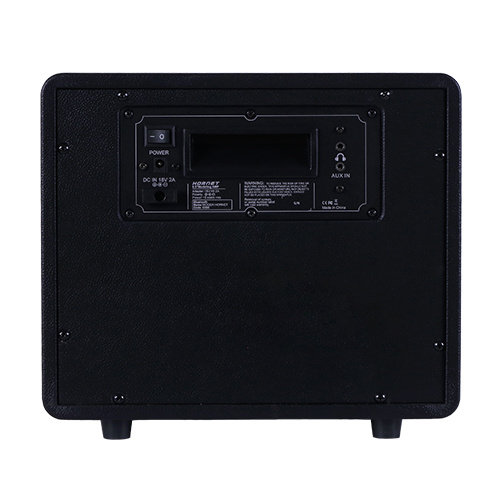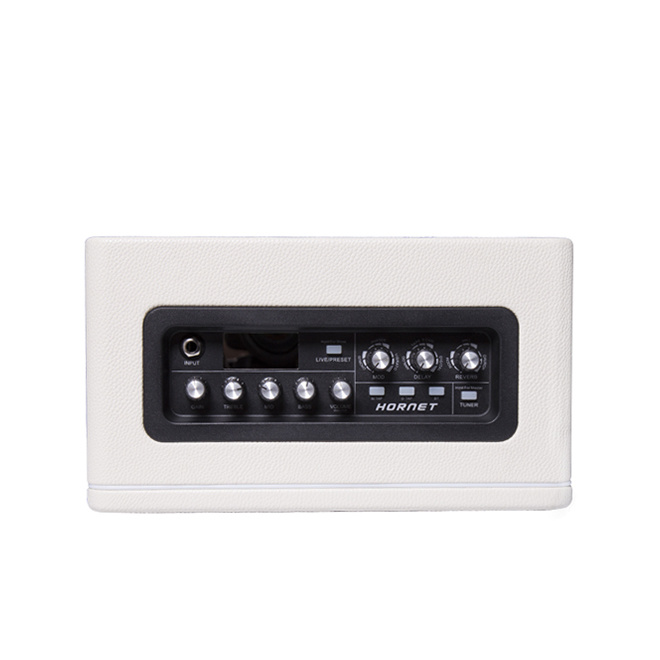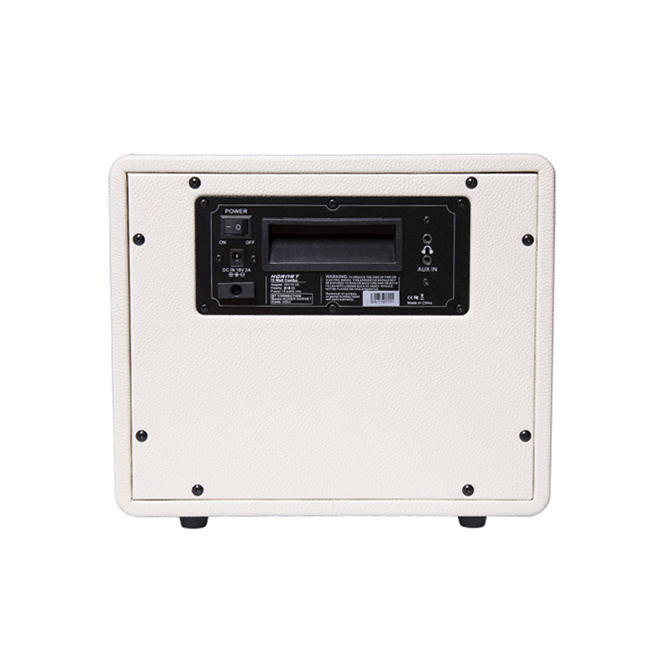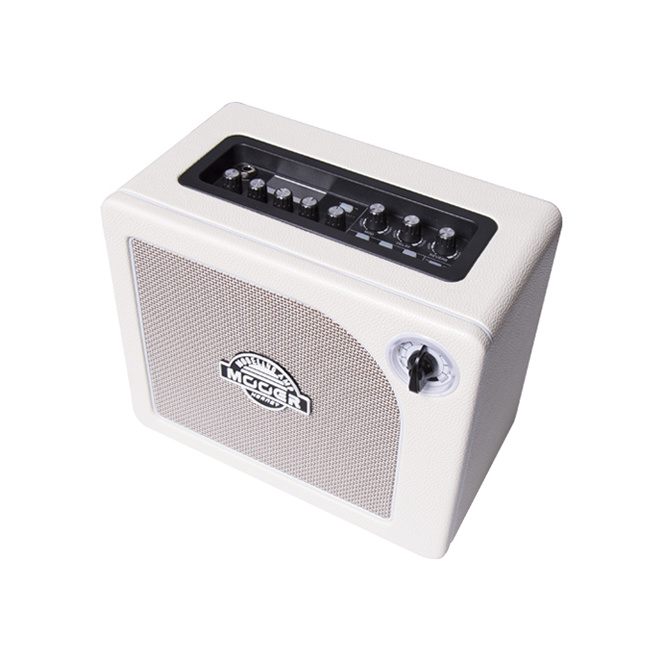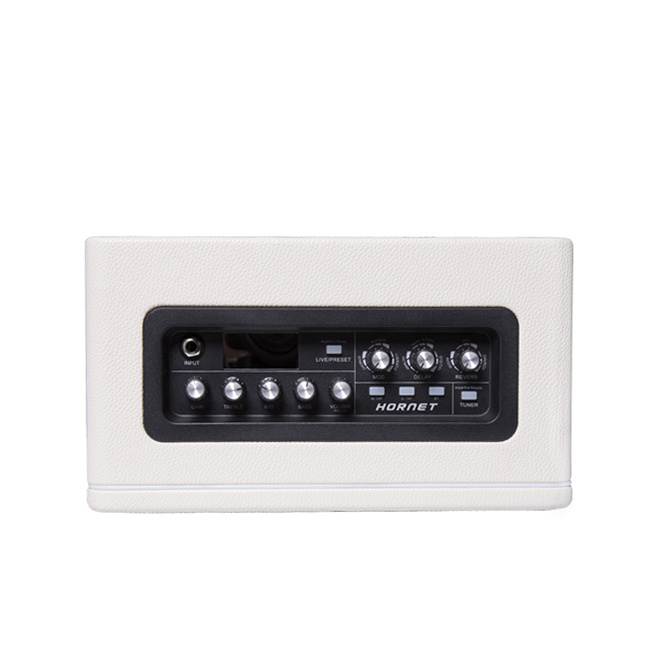 Hornet
The MOOER HORNET is a 15 Watt guitar amplifier with everything you need to get started as a beginner, or to use at home for practice. This little box sports 9 amp models of assorted styles and an array of built-in effects. The custom 6.5" speaker is perfectly tuned to deliver amazing tone and a big sound for such a small unit. The HORNET's tiny size makes it portable and completely unobtrusive, whilst it's classic stylings will ensure it will fit-in nicely at any homestead.
HORNET Black is designed for high gain player, especially for the metal and hard rock guitarists.
Hornet White is a small desktop style amplifier with fresh design, intuitive control. With 9 different types of amp modes, Hornet White allows you to play with your guitar, bass guitar or even acoustic guitar to approach your favourite tone.
Features
Connections
Specification
Demo
Main Features

* 9 high quality digital amp models

* Modulation, delay and reverb effects with independent tap tempo

* Store and recall up to 9 user presets

* Precision instrument tuner

* 2 operation modes LIVE/PRESET

* Wireless Bluetooth connectivity and AUX IN for audio playback from an external device

* Dedicated headphones output

* Custom 6.5" guitar speaker

*15Watt RMS

Inputs: 1/4" instrument signal input interface (impedance 1M)3.5MM AUX IN audio interface (impedance 10K)

Output: 3.5MM headphone stereo audio interface (impedance 47 ohms)

Sampling rate:48k

Sampling accuracy:32 bit

Power supply: DC 18V ≥ 2000mA Power adapter (internal negative external)

Size: 290mm (W) x 173 (D) x 255mm (H)

Speaker: 6.5" impedance of 4 ohms

Rated power: 15W

Peak power: 20W

Weight: 2.9KG
Main Features

* 9 high quality digital amp models

* Modulation, delay and reverb effects with independent tap tempo

* Store and recall up to 9 user presets

* Precision instrument tuner

* 2 operation modes LIVE/PRESET

* Wireless Bluetooth connectivity and AUX IN for audio playback from an external device

* Dedicated headphones output

* Custom 6.5" guitar speaker

*15Watt RMS

Inputs: 1/4" instrument signal input interface (impedance 1M)3.5MM AUX IN audio interface (impedance 10K)

Output: 3.5MM headphone stereo audio interface (impedance 47 ohms)

Sampling rate:48k

Sampling accuracy:32 bit

Power supply: DC 18V ≥ 2000mA Power adapter (internal negative external)

Size: 290mm (W) x 173 (D) x 255mm (H)

Speaker: 6.5" impedance of 4 ohms

Rated power: 15W

Peak power: 20W

Weight: 2.9KG
Main Features

* 9 high quality digital amp models

* Modulation, delay and reverb effects with independent tap tempo

* Store and recall up to 9 user presets

* Precision instrument tuner

* 2 operation modes LIVE/PRESET

* Wireless Bluetooth connectivity and AUX IN for audio playback from an external device

* Dedicated headphones output

* Custom 6.5" guitar speaker

*15Watt RMS

Inputs: 1/4" instrument signal input interface (impedance 1M)3.5MM AUX IN audio interface (impedance 10K)

Output: 3.5MM headphone stereo audio interface (impedance 47 ohms)

Sampling rate:48k

Sampling accuracy:32 bit

Power supply: DC 18V ≥ 2000mA Power adapter (internal negative external)

Size: 290mm (W) x 173 (D) x 255mm (H)

Speaker: 6.5" impedance of 4 ohms

Rated power: 15W

Peak power: 20W

Weight: 2.9KG
Main Features

* 9 high quality digital amp models

* Modulation, delay and reverb effects with independent tap tempo

* Store and recall up to 9 user presets

* Precision instrument tuner

* 2 operation modes LIVE/PRESET

* Wireless Bluetooth connectivity and AUX IN for audio playback from an external device

* Dedicated headphones output

* Custom 6.5" guitar speaker

*15Watt RMS

Inputs: 1/4" instrument signal input interface (impedance 1M)3.5MM AUX IN audio interface (impedance 10K)

Output: 3.5MM headphone stereo audio interface (impedance 47 ohms)

Sampling rate:48k

Sampling accuracy:32 bit

Power supply: DC 18V ≥ 2000mA Power adapter (internal negative external)

Size: 290mm (W) x 173 (D) x 255mm (H)

Speaker: 6.5" impedance of 4 ohms

Rated power: 15W

Peak power: 20W

Weight: 2.9KG

Download
X
Main Features

* 9 high quality digital amp models

* Modulation, delay and reverb effects with independent tap tempo

* Store and recall up to 9 user presets

* Precision instrument tuner

* 2 operation modes LIVE/PRESET

* Wireless Bluetooth connectivity and AUX IN for audio playback from an external device

* Dedicated headphones output

* Custom 6.5" guitar speaker

*15Watt RMS

Inputs: 1/4" instrument signal input interface (impedance 1M)3.5MM AUX IN audio interface (impedance 10K)

Output: 3.5MM headphone stereo audio interface (impedance 47 ohms)

Sampling rate:48k

Sampling accuracy:32 bit

Power supply: DC 18V ≥ 2000mA Power adapter (internal negative external)

Size: 290mm (W) x 173 (D) x 255mm (H)

Speaker: 6.5" impedance of 4 ohms

Rated power: 15W

Peak power: 20W

Weight: 2.9KG