Commodity name:

SD30

Commodity ID:

1087702301784297472

SD30 MULTI-EFFECTS & MODELLING AMP

The SD amplifier series is a harmonious marriage between MOOER's famous digital preamp technology and a new take on traditional solid-state Class A/B amplification techniques, that
deliver professional "tube like" performance, touch and feel, at entry level prices.


Each model in the SD series comes fully loaded with a whole host of special-features and effects, that provide everything you need to craft incredible guitar tones for creating music on-stage or in the practice room. These tones can be stored within 40 preset slots and easily recalled using the proprietary wireless footswitch.


SD amps have a unique JAM section that contains a whole suite of tools for solo performers and creative aficionados alike, such as an integrated looper, syncable drum machine and Bluetooth
connection for playback of your favorite audio tracks from an external device.


The combo amps currently available in 30Watt and 75Watt versions, house custom-built guitar speakers, designed to deliver rich harmonics and enhanced feel with clarity, articulation and
dynamics throughout the amplifiers full volume range.

*25 Digital preamp models based on MOOER's unique digital preamp modelling technology, coupled with a Class A/B power amp, delivers tube like tone and response
*28 integrated stompboxes including 8 drive pedals, 9 modulation pedals, 5 delay pedals (w/tap tempo), 6 reverb types and a precision chromatic tuner
*JAM section provides the ultimate in solo performance and practice facilities. Including a looper, syncable drum machine, AUX IN and Bluetooth connections for audio playback
*40 preset slots to backup and recall your favorite tone settings. These can be easily recalled using the proprietary wireless footswitch (incl. with SD75)
*Independent control knobs for main amp parameters allows fast and intuitive tone setup
*Professional custom 50W 8'' guitar speaker delivers fantastic tone
*Optional balanced output with integrated cabinet simulation for direct connection to PA and audio interface
*Independent headphone output with cabinet simulation for silent practice
*Serial FX LOOP for easy integration with your favorite effects pedals
*SPEAKER OUT for connection to external speaker cabinets

Input: 1 /4" mono audio jack
AUX IN 1 /8" stereo audio jack
SEND/RETURN 1/4" mono audio jack
HEADPHONE OUT: 1 /8" stereo audio jack
SPEAKER OUT 8Ω-16Ω 30Watts 1/8" mono jack
(unbalanced speaker cable)
POWER Amp 30watt,class A/B
USB Type-B
Power supply: 220V-240V AC /100V-120V AC
Power Fuse Contains the main power protection fuse and a backup
replacement fuse. If the amplifier cannot power on, inspect the
protection fuse and replace if necessary.
T500mA - 220V-240V
T1000mA- 100V-120V
Dimension: 420mm x 217mm x 368mm
Weight: 8.3kg
SPEAKER: 1 x 8" Custom 50W 8Ω Driver
Amp Models 25
Effects 28 (DS/OD:8; MOD:9; DELAY:5; REVERB:6 )
LOOPER 150 seconds
DRUM PATTERNS 40
METRONOME 10
PRESETS: 40
Accessories: Owner's manual; Power Cable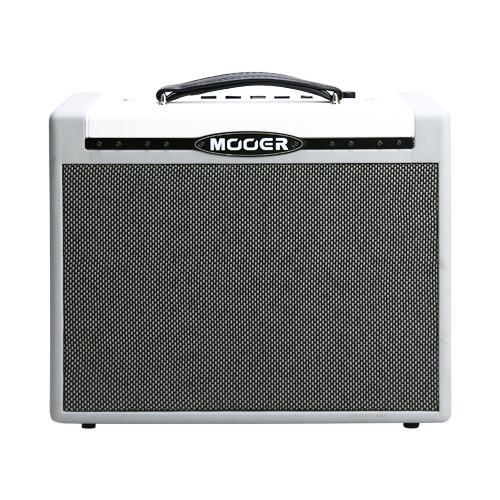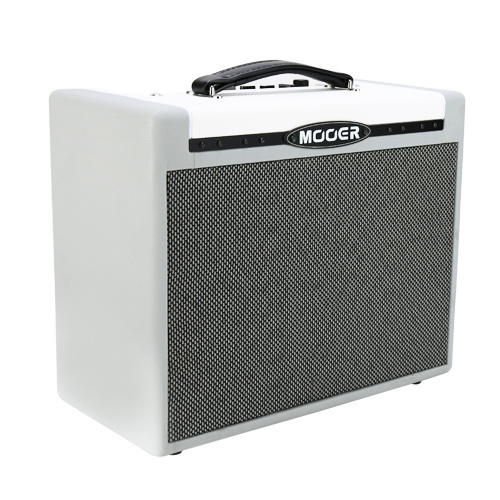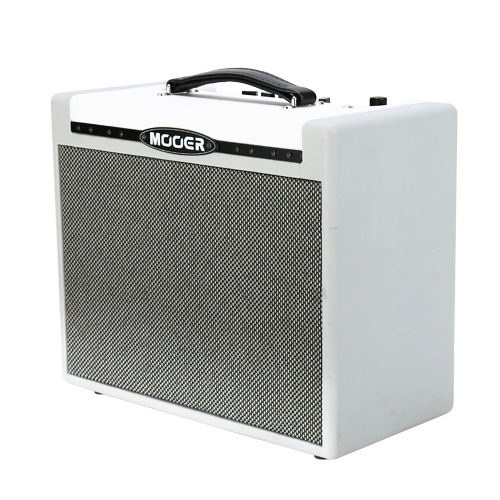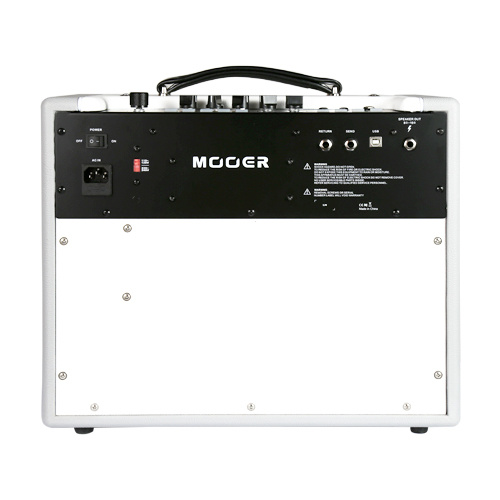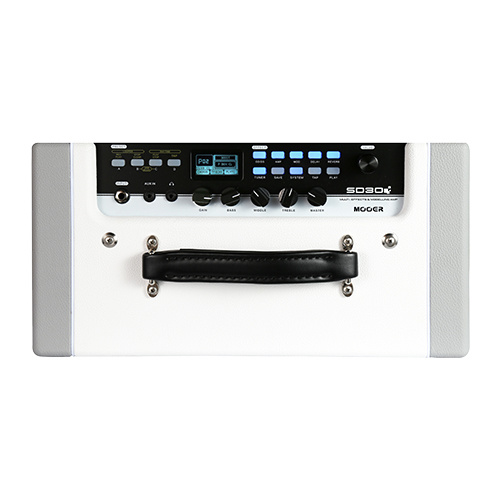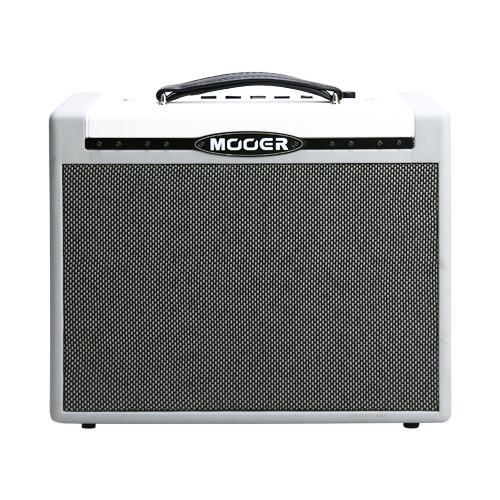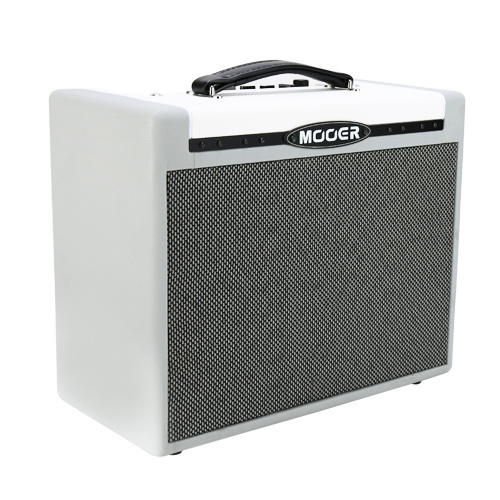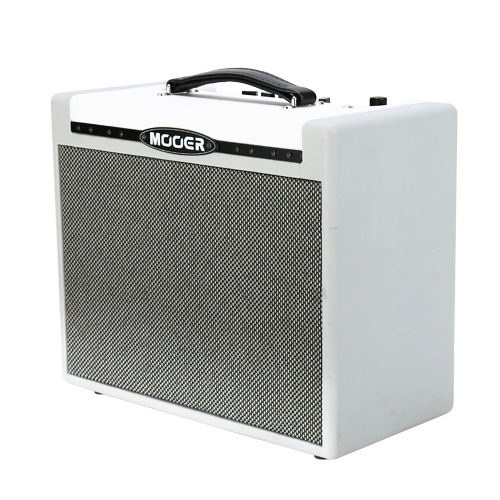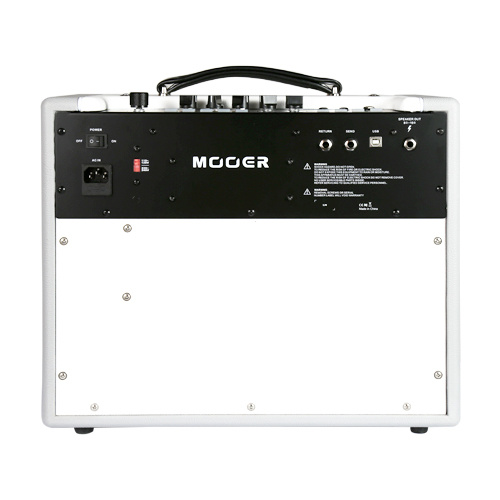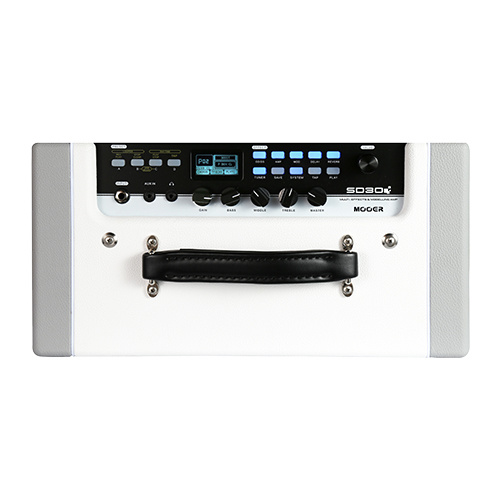 SD30
SD30 MULTI-EFFECTS & MODELLING AMP
The SD amplifier series is a harmonious marriage between MOOER's famous digital preamp technology and a new take on traditional solid-state Class A/B amplification techniques, that
deliver professional "tube like" performance, touch and feel, at entry level prices.

Each model in the SD series comes fully loaded with a whole host of special-features and effects, that provide everything you need to craft incredible guitar tones for creating music on-stage or in the practice room. These tones can be stored within 40 preset slots and easily recalled using the proprietary wireless footswitch.

SD amps have a unique JAM section that contains a whole suite of tools for solo performers and creative aficionados alike, such as an integrated looper, syncable drum machine and Bluetooth
connection for playback of your favorite audio tracks from an external device.

The combo amps currently available in 30Watt and 75Watt versions, house custom-built guitar speakers, designed to deliver rich harmonics and enhanced feel with clarity, articulation and
dynamics throughout the amplifiers full volume range.
Features
Connections
Specification
Demo
*25 Digital preamp models based on MOOER's unique digital preamp modelling technology, coupled with a Class A/B power amp, delivers tube like tone and response
*28 integrated stompboxes including 8 drive pedals, 9 modulation pedals, 5 delay pedals (w/tap tempo), 6 reverb types and a precision chromatic tuner
*JAM section provides the ultimate in solo performance and practice facilities. Including a looper, syncable drum machine, AUX IN and Bluetooth connections for audio playback
*40 preset slots to backup and recall your favorite tone settings. These can be easily recalled using the proprietary wireless footswitch (incl. with SD75)
*Independent control knobs for main amp parameters allows fast and intuitive tone setup
*Professional custom 50W 8'' guitar speaker delivers fantastic tone
*Optional balanced output with integrated cabinet simulation for direct connection to PA and audio interface
*Independent headphone output with cabinet simulation for silent practice
*Serial FX LOOP for easy integration with your favorite effects pedals
*SPEAKER OUT for connection to external speaker cabinets

Input: 1 /4" mono audio jack
AUX IN 1 /8" stereo audio jack
SEND/RETURN 1/4" mono audio jack
HEADPHONE OUT: 1 /8" stereo audio jack
SPEAKER OUT 8Ω-16Ω 30Watts 1/8" mono jack
(unbalanced speaker cable)
POWER Amp 30watt,class A/B
USB Type-B
Power supply: 220V-240V AC /100V-120V AC
Power Fuse Contains the main power protection fuse and a backup
replacement fuse. If the amplifier cannot power on, inspect the
protection fuse and replace if necessary.
T500mA - 220V-240V
T1000mA- 100V-120V
Dimension: 420mm x 217mm x 368mm
Weight: 8.3kg
SPEAKER: 1 x 8" Custom 50W 8Ω Driver
Amp Models 25
Effects 28 (DS/OD:8; MOD:9; DELAY:5; REVERB:6 )
LOOPER 150 seconds
DRUM PATTERNS 40
METRONOME 10
PRESETS: 40
Accessories: Owner's manual; Power Cable
*25 Digital preamp models based on MOOER's unique digital preamp modelling technology, coupled with a Class A/B power amp, delivers tube like tone and response
*28 integrated stompboxes including 8 drive pedals, 9 modulation pedals, 5 delay pedals (w/tap tempo), 6 reverb types and a precision chromatic tuner
*JAM section provides the ultimate in solo performance and practice facilities. Including a looper, syncable drum machine, AUX IN and Bluetooth connections for audio playback
*40 preset slots to backup and recall your favorite tone settings. These can be easily recalled using the proprietary wireless footswitch (incl. with SD75)
*Independent control knobs for main amp parameters allows fast and intuitive tone setup
*Professional custom 50W 8'' guitar speaker delivers fantastic tone
*Optional balanced output with integrated cabinet simulation for direct connection to PA and audio interface
*Independent headphone output with cabinet simulation for silent practice
*Serial FX LOOP for easy integration with your favorite effects pedals
*SPEAKER OUT for connection to external speaker cabinets

Input: 1 /4" mono audio jack
AUX IN 1 /8" stereo audio jack
SEND/RETURN 1/4" mono audio jack
HEADPHONE OUT: 1 /8" stereo audio jack
SPEAKER OUT 8Ω-16Ω 30Watts 1/8" mono jack
(unbalanced speaker cable)
POWER Amp 30watt,class A/B
USB Type-B
Power supply: 220V-240V AC /100V-120V AC
Power Fuse Contains the main power protection fuse and a backup
replacement fuse. If the amplifier cannot power on, inspect the
protection fuse and replace if necessary.
T500mA - 220V-240V
T1000mA- 100V-120V
Dimension: 420mm x 217mm x 368mm
Weight: 8.3kg
SPEAKER: 1 x 8" Custom 50W 8Ω Driver
Amp Models 25
Effects 28 (DS/OD:8; MOD:9; DELAY:5; REVERB:6 )
LOOPER 150 seconds
DRUM PATTERNS 40
METRONOME 10
PRESETS: 40
Accessories: Owner's manual; Power Cable
*25 Digital preamp models based on MOOER's unique digital preamp modelling technology, coupled with a Class A/B power amp, delivers tube like tone and response
*28 integrated stompboxes including 8 drive pedals, 9 modulation pedals, 5 delay pedals (w/tap tempo), 6 reverb types and a precision chromatic tuner
*JAM section provides the ultimate in solo performance and practice facilities. Including a looper, syncable drum machine, AUX IN and Bluetooth connections for audio playback
*40 preset slots to backup and recall your favorite tone settings. These can be easily recalled using the proprietary wireless footswitch (incl. with SD75)
*Independent control knobs for main amp parameters allows fast and intuitive tone setup
*Professional custom 50W 8'' guitar speaker delivers fantastic tone
*Optional balanced output with integrated cabinet simulation for direct connection to PA and audio interface
*Independent headphone output with cabinet simulation for silent practice
*Serial FX LOOP for easy integration with your favorite effects pedals
*SPEAKER OUT for connection to external speaker cabinets

Input: 1 /4" mono audio jack
AUX IN 1 /8" stereo audio jack
SEND/RETURN 1/4" mono audio jack
HEADPHONE OUT: 1 /8" stereo audio jack
SPEAKER OUT 8Ω-16Ω 30Watts 1/8" mono jack
(unbalanced speaker cable)
POWER Amp 30watt,class A/B
USB Type-B
Power supply: 220V-240V AC /100V-120V AC
Power Fuse Contains the main power protection fuse and a backup
replacement fuse. If the amplifier cannot power on, inspect the
protection fuse and replace if necessary.
T500mA - 220V-240V
T1000mA- 100V-120V
Dimension: 420mm x 217mm x 368mm
Weight: 8.3kg
SPEAKER: 1 x 8" Custom 50W 8Ω Driver
Amp Models 25
Effects 28 (DS/OD:8; MOD:9; DELAY:5; REVERB:6 )
LOOPER 150 seconds
DRUM PATTERNS 40
METRONOME 10
PRESETS: 40
Accessories: Owner's manual; Power Cable
*25 Digital preamp models based on MOOER's unique digital preamp modelling technology, coupled with a Class A/B power amp, delivers tube like tone and response
*28 integrated stompboxes including 8 drive pedals, 9 modulation pedals, 5 delay pedals (w/tap tempo), 6 reverb types and a precision chromatic tuner
*JAM section provides the ultimate in solo performance and practice facilities. Including a looper, syncable drum machine, AUX IN and Bluetooth connections for audio playback
*40 preset slots to backup and recall your favorite tone settings. These can be easily recalled using the proprietary wireless footswitch (incl. with SD75)
*Independent control knobs for main amp parameters allows fast and intuitive tone setup
*Professional custom 50W 8'' guitar speaker delivers fantastic tone
*Optional balanced output with integrated cabinet simulation for direct connection to PA and audio interface
*Independent headphone output with cabinet simulation for silent practice
*Serial FX LOOP for easy integration with your favorite effects pedals
*SPEAKER OUT for connection to external speaker cabinets

Input: 1 /4" mono audio jack
AUX IN 1 /8" stereo audio jack
SEND/RETURN 1/4" mono audio jack
HEADPHONE OUT: 1 /8" stereo audio jack
SPEAKER OUT 8Ω-16Ω 30Watts 1/8" mono jack
(unbalanced speaker cable)
POWER Amp 30watt,class A/B
USB Type-B
Power supply: 220V-240V AC /100V-120V AC
Power Fuse Contains the main power protection fuse and a backup
replacement fuse. If the amplifier cannot power on, inspect the
protection fuse and replace if necessary.
T500mA - 220V-240V
T1000mA- 100V-120V
Dimension: 420mm x 217mm x 368mm
Weight: 8.3kg
SPEAKER: 1 x 8" Custom 50W 8Ω Driver
Amp Models 25
Effects 28 (DS/OD:8; MOD:9; DELAY:5; REVERB:6 )
LOOPER 150 seconds
DRUM PATTERNS 40
METRONOME 10
PRESETS: 40
Accessories: Owner's manual; Power Cable

Download
X
*25 Digital preamp models based on MOOER's unique digital preamp modelling technology, coupled with a Class A/B power amp, delivers tube like tone and response
*28 integrated stompboxes including 8 drive pedals, 9 modulation pedals, 5 delay pedals (w/tap tempo), 6 reverb types and a precision chromatic tuner
*JAM section provides the ultimate in solo performance and practice facilities. Including a looper, syncable drum machine, AUX IN and Bluetooth connections for audio playback
*40 preset slots to backup and recall your favorite tone settings. These can be easily recalled using the proprietary wireless footswitch (incl. with SD75)
*Independent control knobs for main amp parameters allows fast and intuitive tone setup
*Professional custom 50W 8'' guitar speaker delivers fantastic tone
*Optional balanced output with integrated cabinet simulation for direct connection to PA and audio interface
*Independent headphone output with cabinet simulation for silent practice
*Serial FX LOOP for easy integration with your favorite effects pedals
*SPEAKER OUT for connection to external speaker cabinets

Input: 1 /4" mono audio jack
AUX IN 1 /8" stereo audio jack
SEND/RETURN 1/4" mono audio jack
HEADPHONE OUT: 1 /8" stereo audio jack
SPEAKER OUT 8Ω-16Ω 30Watts 1/8" mono jack
(unbalanced speaker cable)
POWER Amp 30watt,class A/B
USB Type-B
Power supply: 220V-240V AC /100V-120V AC
Power Fuse Contains the main power protection fuse and a backup
replacement fuse. If the amplifier cannot power on, inspect the
protection fuse and replace if necessary.
T500mA - 220V-240V
T1000mA- 100V-120V
Dimension: 420mm x 217mm x 368mm
Weight: 8.3kg
SPEAKER: 1 x 8" Custom 50W 8Ω Driver
Amp Models 25
Effects 28 (DS/OD:8; MOD:9; DELAY:5; REVERB:6 )
LOOPER 150 seconds
DRUM PATTERNS 40
METRONOME 10
PRESETS: 40
Accessories: Owner's manual; Power Cable