Commodity name:

STEEP Ⅱ

Commodity ID:

1087702236609007616

Multi-platform audio interface

While many MOOER multi-effects pedals can be used as an audio interface, MOOER has finally announced their new line-up of audio interfaces with the Steep I and II.

Both models offer a multi-platform audio interface with support for high-resolution audio up to 24bit/192 khz and combination microphone, line-in, and high-impedance value instrument support. Dual-channel outputs are also included as well as one USB-C port for power and one USB-C port for data transfer, that can also be used for power when connected to a PC. Both the Steep I and II include dual LED input level indicators, support for 48v phantom power, a stereo direct monitor button, and knobs to control main output volume, mix, and input gain levels.

The Steep II adds several features including dual combined ¼" and XLR input jacks (Steep I includes a single ¼" and one combined ¼" and XLR input jacks) as well as MIDI IN/OUT ports for connecting to a MIDI keyboard, synthesizer, and other supported devices. To learn more about the Steep I and II, visit mooeraudio.com and download the product manual for full device specifications.

*Multi-platform audio interface with dual inputs and outputs

*Supports up to 24bit/192kHz high-resolution audio

*Microphone, line-in, and high-impedance value instrument support

*48V phantom power available for condenser microphone

*Zero-latency direct monitor and DAW monitor can be adjusted individually or mixed

*Switchable stereo/mono direct monitor provides more possibilities for input signal monitor

*Individual adjustment of monitor volume level and headphone output volume level

*MIDI IN/MIDI OUT (STEEP II only)

*Can be powered by via USB port or USB power supply

Frequency Response

(20 Hz to 20kHz)

<±0.07dB

<±0.07dB

THD+N

<0.0094%
(minimum gain,-1 dBFS input with 22 Hz/22 kHz bandpass filter)

<0.0094%
(minimum gain,-1 dBFS input with 22 Hz/22 kHz bandpass filter)

Maximum Input Level(minimum gain level)

+11 dBu

+11 dBu

Gain Range

50dB

50dB

Input impedance

1.5M ohm

1.5M ohm

Line Outputs

Output Jack

1/4" TRS jack*2(support balanced signal)

1/4" TRS jack*2(support balanced signal)

Dynamic Range

>108dB(A-weighted)

>108dB(A-weighted)

Maximum Input Level(minimum gain level)

+5.746 dBu

+5.746 dBu

THD+N

<0.019%
(minimum gain,-1 dBFS input with 22 Hz/22 kHz bandpass filter)

<0.019%
(minimum gain,-1 dBFS input with 22 Hz/22 kHz bandpass filter)

Input impedance

430 ohm

430 ohm

Headphone Outputs

Output Jack

1/4" TRS jack*1

1/4" TRS jack*1

Dynamic Range

>104.9dB

>104.9dB

Maximum Input Level(minimum gain level)

+9.738 dBu

+9.738 dBu

THD+N

<0.002%
(minimum gain,-1 dBFS input with 22 Hz/22 kHz bandpass filter)

<0.002%
(minimum gain,-1 dBFS input with 22 Hz/22 kHz bandpass filter)

Output impedance

<1 ohm

<1 ohm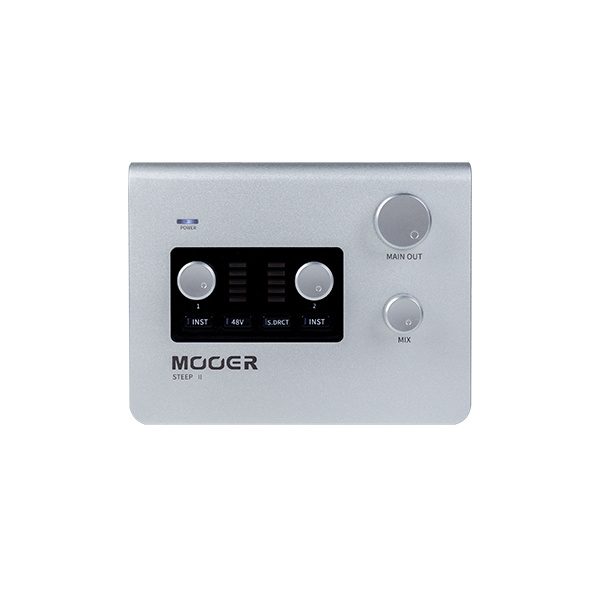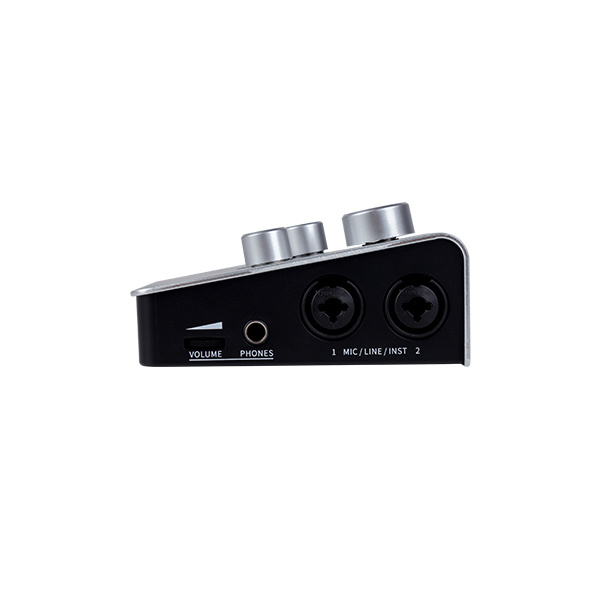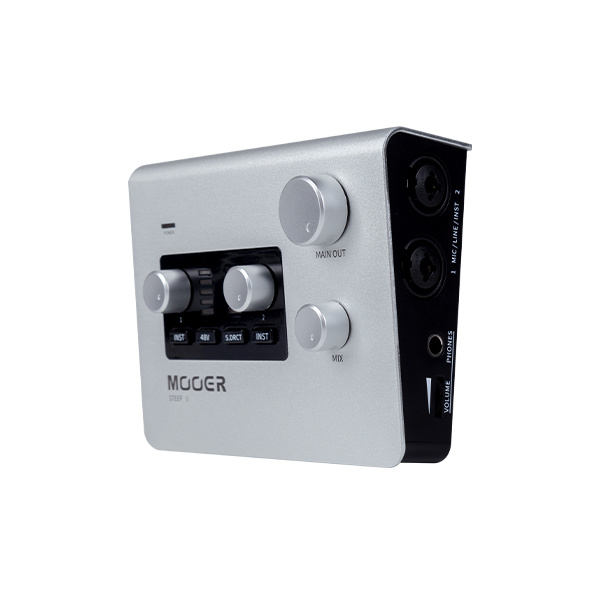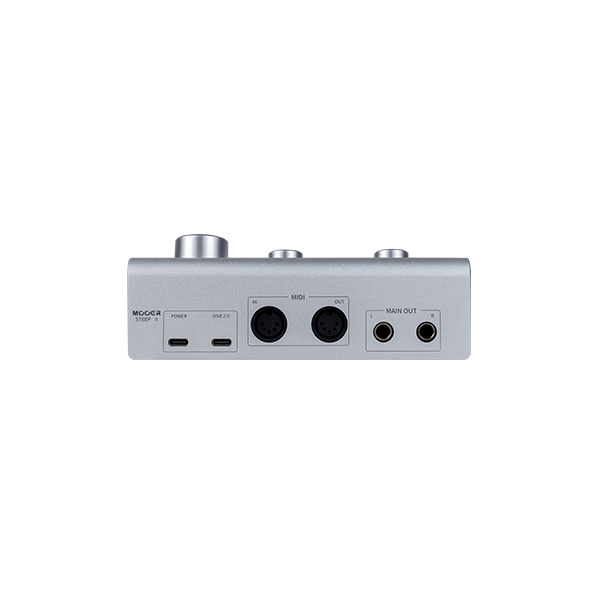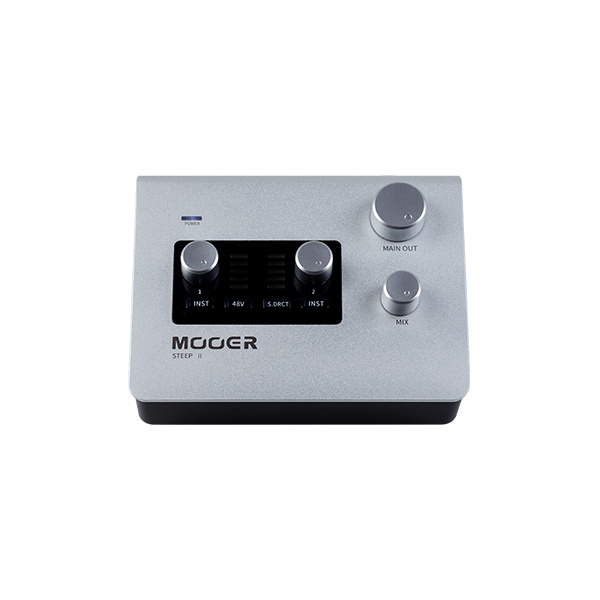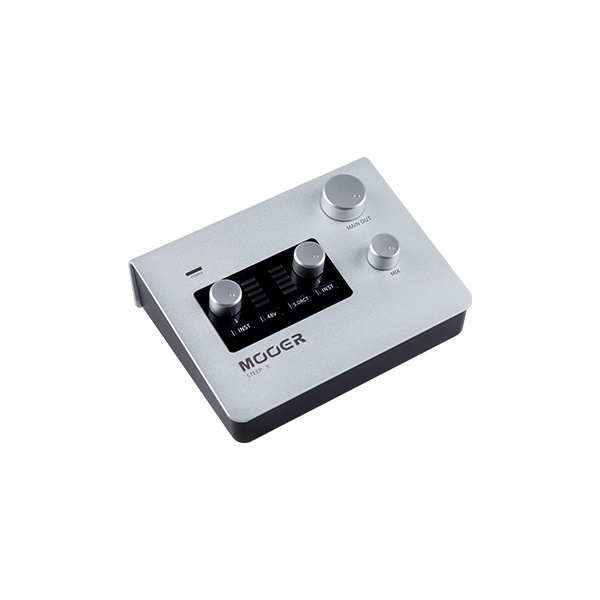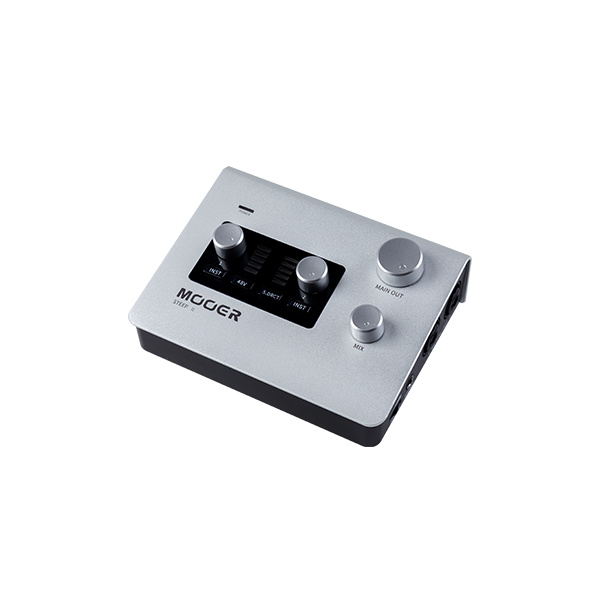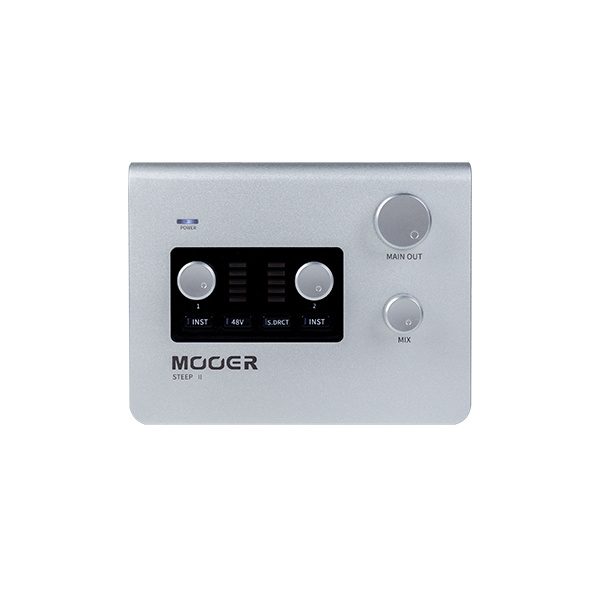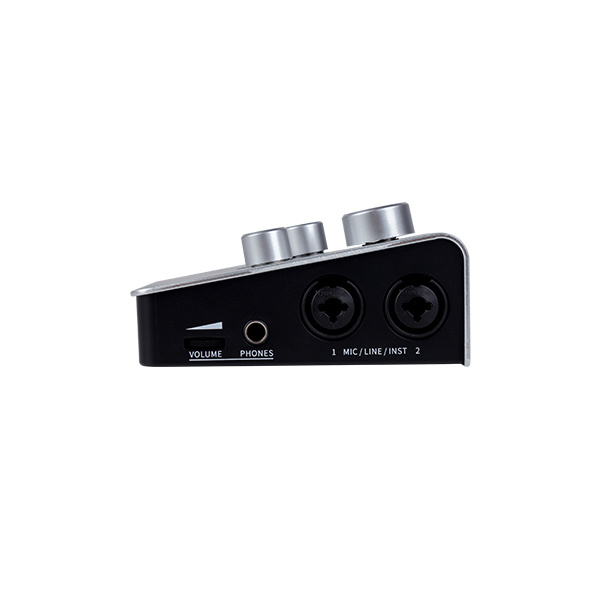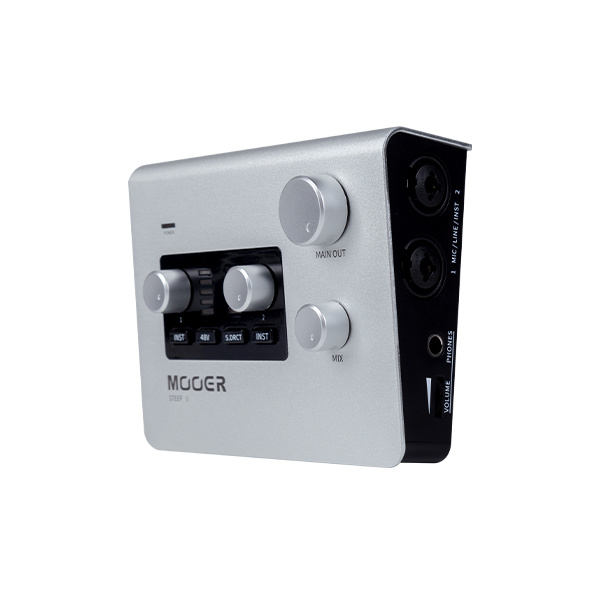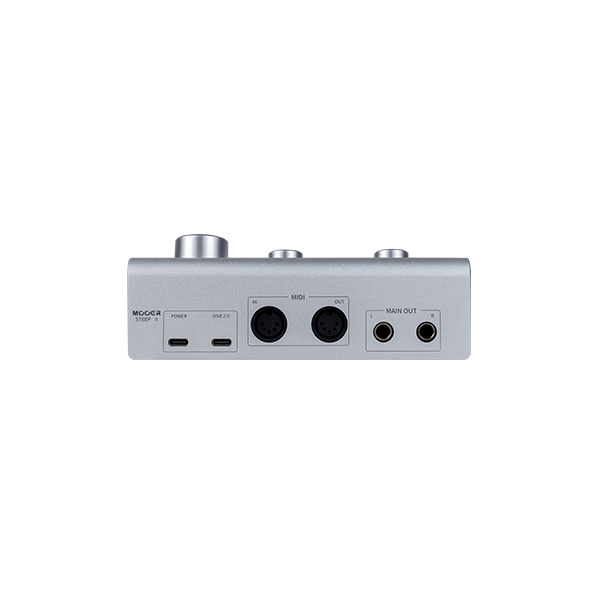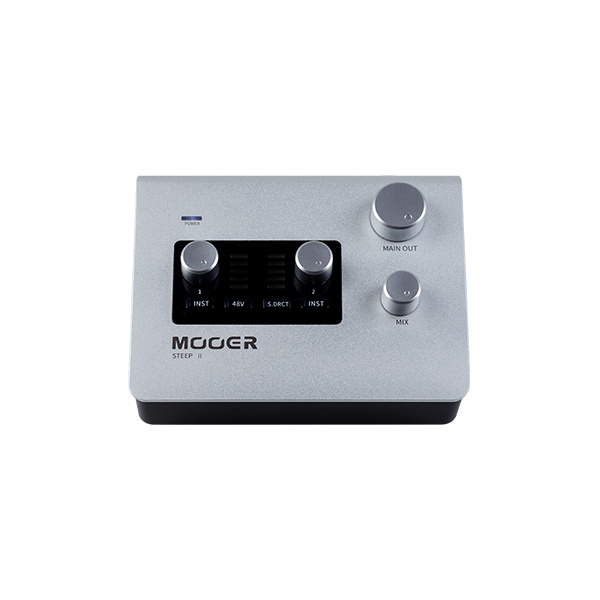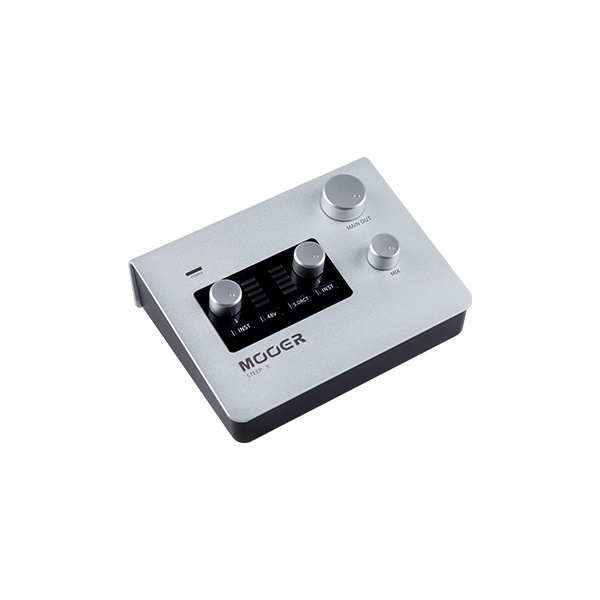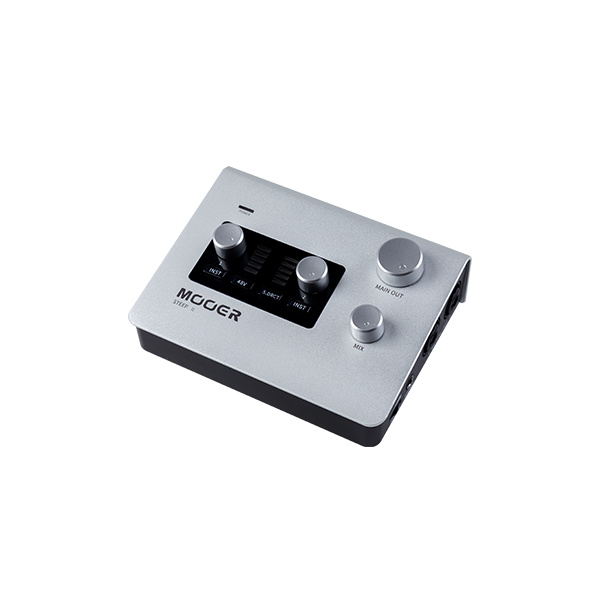 STEEP Ⅱ
Multi-platform audio interface
While many MOOER multi-effects pedals can be used as an audio interface, MOOER has finally announced their new line-up of audio interfaces with the Steep I and II.
Both models offer a multi-platform audio interface with support for high-resolution audio up to 24bit/192 khz and combination microphone, line-in, and high-impedance value instrument support. Dual-channel outputs are also included as well as one USB-C port for power and one USB-C port for data transfer, that can also be used for power when connected to a PC. Both the Steep I and II include dual LED input level indicators, support for 48v phantom power, a stereo direct monitor button, and knobs to control main output volume, mix, and input gain levels.
The Steep II adds several features including dual combined ¼" and XLR input jacks (Steep I includes a single ¼" and one combined ¼" and XLR input jacks) as well as MIDI IN/OUT ports for connecting to a MIDI keyboard, synthesizer, and other supported devices. To learn more about the Steep I and II, visit mooeraudio.com and download the product manual for full device specifications.
Features
Connections
Specification
Demo
*Multi-platform audio interface with dual inputs and outputs

*Supports up to 24bit/192kHz high-resolution audio

*Microphone, line-in, and high-impedance value instrument support

*48V phantom power available for condenser microphone

*Zero-latency direct monitor and DAW monitor can be adjusted individually or mixed

*Switchable stereo/mono direct monitor provides more possibilities for input signal monitor

*Individual adjustment of monitor volume level and headphone output volume level

*MIDI IN/MIDI OUT (STEEP II only)

*Can be powered by via USB port or USB power supply

Frequency Response

(20 Hz to 20kHz)

<±0.07dB

<±0.07dB

THD+N

<0.0094%
(minimum gain,-1 dBFS input with 22 Hz/22 kHz bandpass filter)

<0.0094%
(minimum gain,-1 dBFS input with 22 Hz/22 kHz bandpass filter)

Maximum Input Level(minimum gain level)

+11 dBu

+11 dBu

Gain Range

50dB

50dB

Input impedance

1.5M ohm

1.5M ohm

Line Outputs

Output Jack

1/4" TRS jack*2(support balanced signal)

1/4" TRS jack*2(support balanced signal)

Dynamic Range

>108dB(A-weighted)

>108dB(A-weighted)

Maximum Input Level(minimum gain level)

+5.746 dBu

+5.746 dBu

THD+N

<0.019%
(minimum gain,-1 dBFS input with 22 Hz/22 kHz bandpass filter)

<0.019%
(minimum gain,-1 dBFS input with 22 Hz/22 kHz bandpass filter)

Input impedance

430 ohm

430 ohm

Headphone Outputs

Output Jack

1/4" TRS jack*1

1/4" TRS jack*1

Dynamic Range

>104.9dB

>104.9dB

Maximum Input Level(minimum gain level)

+9.738 dBu

+9.738 dBu

THD+N

<0.002%
(minimum gain,-1 dBFS input with 22 Hz/22 kHz bandpass filter)

<0.002%
(minimum gain,-1 dBFS input with 22 Hz/22 kHz bandpass filter)

Output impedance

<1 ohm

<1 ohm
*Multi-platform audio interface with dual inputs and outputs

*Supports up to 24bit/192kHz high-resolution audio

*Microphone, line-in, and high-impedance value instrument support

*48V phantom power available for condenser microphone

*Zero-latency direct monitor and DAW monitor can be adjusted individually or mixed

*Switchable stereo/mono direct monitor provides more possibilities for input signal monitor

*Individual adjustment of monitor volume level and headphone output volume level

*MIDI IN/MIDI OUT (STEEP II only)

*Can be powered by via USB port or USB power supply

Frequency Response

(20 Hz to 20kHz)

<±0.07dB

<±0.07dB

THD+N

<0.0094%
(minimum gain,-1 dBFS input with 22 Hz/22 kHz bandpass filter)

<0.0094%
(minimum gain,-1 dBFS input with 22 Hz/22 kHz bandpass filter)

Maximum Input Level(minimum gain level)

+11 dBu

+11 dBu

Gain Range

50dB

50dB

Input impedance

1.5M ohm

1.5M ohm

Line Outputs

Output Jack

1/4" TRS jack*2(support balanced signal)

1/4" TRS jack*2(support balanced signal)

Dynamic Range

>108dB(A-weighted)

>108dB(A-weighted)

Maximum Input Level(minimum gain level)

+5.746 dBu

+5.746 dBu

THD+N

<0.019%
(minimum gain,-1 dBFS input with 22 Hz/22 kHz bandpass filter)

<0.019%
(minimum gain,-1 dBFS input with 22 Hz/22 kHz bandpass filter)

Input impedance

430 ohm

430 ohm

Headphone Outputs

Output Jack

1/4" TRS jack*1

1/4" TRS jack*1

Dynamic Range

>104.9dB

>104.9dB

Maximum Input Level(minimum gain level)

+9.738 dBu

+9.738 dBu

THD+N

<0.002%
(minimum gain,-1 dBFS input with 22 Hz/22 kHz bandpass filter)

<0.002%
(minimum gain,-1 dBFS input with 22 Hz/22 kHz bandpass filter)

Output impedance

<1 ohm

<1 ohm
*Multi-platform audio interface with dual inputs and outputs

*Supports up to 24bit/192kHz high-resolution audio

*Microphone, line-in, and high-impedance value instrument support

*48V phantom power available for condenser microphone

*Zero-latency direct monitor and DAW monitor can be adjusted individually or mixed

*Switchable stereo/mono direct monitor provides more possibilities for input signal monitor

*Individual adjustment of monitor volume level and headphone output volume level

*MIDI IN/MIDI OUT (STEEP II only)

*Can be powered by via USB port or USB power supply

Frequency Response

(20 Hz to 20kHz)

<±0.07dB

<±0.07dB

THD+N

<0.0094%
(minimum gain,-1 dBFS input with 22 Hz/22 kHz bandpass filter)

<0.0094%
(minimum gain,-1 dBFS input with 22 Hz/22 kHz bandpass filter)

Maximum Input Level(minimum gain level)

+11 dBu

+11 dBu

Gain Range

50dB

50dB

Input impedance

1.5M ohm

1.5M ohm

Line Outputs

Output Jack

1/4" TRS jack*2(support balanced signal)

1/4" TRS jack*2(support balanced signal)

Dynamic Range

>108dB(A-weighted)

>108dB(A-weighted)

Maximum Input Level(minimum gain level)

+5.746 dBu

+5.746 dBu

THD+N

<0.019%
(minimum gain,-1 dBFS input with 22 Hz/22 kHz bandpass filter)

<0.019%
(minimum gain,-1 dBFS input with 22 Hz/22 kHz bandpass filter)

Input impedance

430 ohm

430 ohm

Headphone Outputs

Output Jack

1/4" TRS jack*1

1/4" TRS jack*1

Dynamic Range

>104.9dB

>104.9dB

Maximum Input Level(minimum gain level)

+9.738 dBu

+9.738 dBu

THD+N

<0.002%
(minimum gain,-1 dBFS input with 22 Hz/22 kHz bandpass filter)

<0.002%
(minimum gain,-1 dBFS input with 22 Hz/22 kHz bandpass filter)

Output impedance

<1 ohm

<1 ohm
*Multi-platform audio interface with dual inputs and outputs

*Supports up to 24bit/192kHz high-resolution audio

*Microphone, line-in, and high-impedance value instrument support

*48V phantom power available for condenser microphone

*Zero-latency direct monitor and DAW monitor can be adjusted individually or mixed

*Switchable stereo/mono direct monitor provides more possibilities for input signal monitor

*Individual adjustment of monitor volume level and headphone output volume level

*MIDI IN/MIDI OUT (STEEP II only)

*Can be powered by via USB port or USB power supply

Frequency Response

(20 Hz to 20kHz)

<±0.07dB

<±0.07dB

THD+N

<0.0094%
(minimum gain,-1 dBFS input with 22 Hz/22 kHz bandpass filter)

<0.0094%
(minimum gain,-1 dBFS input with 22 Hz/22 kHz bandpass filter)

Maximum Input Level(minimum gain level)

+11 dBu

+11 dBu

Gain Range

50dB

50dB

Input impedance

1.5M ohm

1.5M ohm

Line Outputs

Output Jack

1/4" TRS jack*2(support balanced signal)

1/4" TRS jack*2(support balanced signal)

Dynamic Range

>108dB(A-weighted)

>108dB(A-weighted)

Maximum Input Level(minimum gain level)

+5.746 dBu

+5.746 dBu

THD+N

<0.019%
(minimum gain,-1 dBFS input with 22 Hz/22 kHz bandpass filter)

<0.019%
(minimum gain,-1 dBFS input with 22 Hz/22 kHz bandpass filter)

Input impedance

430 ohm

430 ohm

Headphone Outputs

Output Jack

1/4" TRS jack*1

1/4" TRS jack*1

Dynamic Range

>104.9dB

>104.9dB

Maximum Input Level(minimum gain level)

+9.738 dBu

+9.738 dBu

THD+N

<0.002%
(minimum gain,-1 dBFS input with 22 Hz/22 kHz bandpass filter)

<0.002%
(minimum gain,-1 dBFS input with 22 Hz/22 kHz bandpass filter)

Output impedance

<1 ohm

<1 ohm
X
*Multi-platform audio interface with dual inputs and outputs

*Supports up to 24bit/192kHz high-resolution audio

*Microphone, line-in, and high-impedance value instrument support

*48V phantom power available for condenser microphone

*Zero-latency direct monitor and DAW monitor can be adjusted individually or mixed

*Switchable stereo/mono direct monitor provides more possibilities for input signal monitor

*Individual adjustment of monitor volume level and headphone output volume level

*MIDI IN/MIDI OUT (STEEP II only)

*Can be powered by via USB port or USB power supply

Frequency Response

(20 Hz to 20kHz)

<±0.07dB

<±0.07dB

THD+N

<0.0094%
(minimum gain,-1 dBFS input with 22 Hz/22 kHz bandpass filter)

<0.0094%
(minimum gain,-1 dBFS input with 22 Hz/22 kHz bandpass filter)

Maximum Input Level(minimum gain level)

+11 dBu

+11 dBu

Gain Range

50dB

50dB

Input impedance

1.5M ohm

1.5M ohm

Line Outputs

Output Jack

1/4" TRS jack*2(support balanced signal)

1/4" TRS jack*2(support balanced signal)

Dynamic Range

>108dB(A-weighted)

>108dB(A-weighted)

Maximum Input Level(minimum gain level)

+5.746 dBu

+5.746 dBu

THD+N

<0.019%
(minimum gain,-1 dBFS input with 22 Hz/22 kHz bandpass filter)

<0.019%
(minimum gain,-1 dBFS input with 22 Hz/22 kHz bandpass filter)

Input impedance

430 ohm

430 ohm

Headphone Outputs

Output Jack

1/4" TRS jack*1

1/4" TRS jack*1

Dynamic Range

>104.9dB

>104.9dB

Maximum Input Level(minimum gain level)

+9.738 dBu

+9.738 dBu

THD+N

<0.002%
(minimum gain,-1 dBFS input with 22 Hz/22 kHz bandpass filter)

<0.002%
(minimum gain,-1 dBFS input with 22 Hz/22 kHz bandpass filter)

Output impedance

<1 ohm

<1 ohm