Commodity name:

Pedal Controller L6 MKII

Commodity ID:

1087702280733085696

Programmable Loop Switcher

Featuring support for 6 effects loops with 6 presets each, the Pedal Controller L6 can enhance and control even the most robust pedal and multi-effects setups.

This latest controller allows users to choose between two ways to interact with the unit. By choosing PLAY mode, the user can save and recall up to 36 preset configurations that allow for the simultaneous engagement/disengagement of multiple loops with the press of one footswitch. By choosing LIVE mode, the L6 can function as a traditional pedalboard with each footswitch able to quickly toggle on/off the corresponding loop.

In addition to two play modes, the L6 also has the choice of a pre- or post- signal buffer to choose from to reduce impedance caused by instrument cables or other electronic interference. Without the buffer engaged, the L6 will operate in true bypass. Other bonus features for the L6 include a built-in tuner, dedicated mute switch, and large LED display panels to read easily from a distance.

· Programmable loop switcher with 6 loops.

· The L6 MKII has a pre-position buffer (BUF-F) and post-position buffer (BUF-B) available for activation which will minimize signal attenuation and result in minimum tone loss in the guitar signal.

· Two modes of operation: PLAY mode and LIVE mode. This allows the user the option of utilizing the footswitches to recall up to 36 saved presets or activate pedal loops individually in a traditional manor.

· Footswitch LED for each loop make it fast and easy to see which loops are activated.

· Dedicated MUTE footswitch.

· Includes built-in tuner and supports external tuner.

Input: 1/4"monaural jack (impedance: 2M Ohms)

Output: 1/4"monaural jack (impedance: 4.7k Ohms)

Power Requirements: AC adapter 9V DC (center minus plug) 300mA, MOOER Power Supply is recommended

Current Draw: 300mA

Dimensions: 370mm (D) x 97mm (W) x 54mm (H)

Weight: 1.15kg

Accessories: Owner's Manual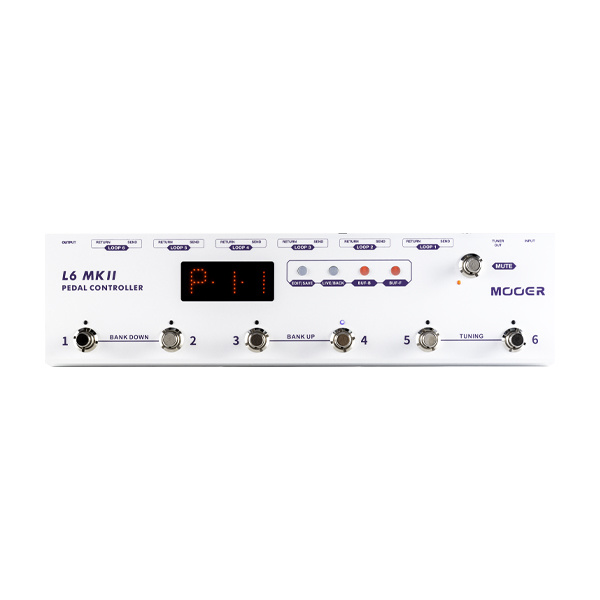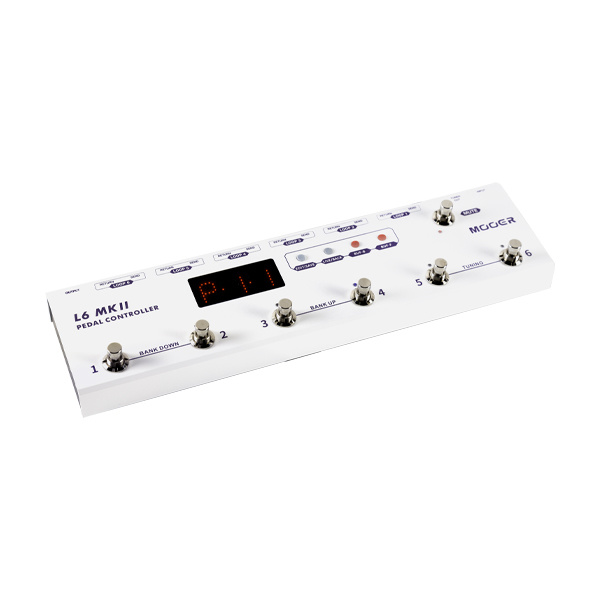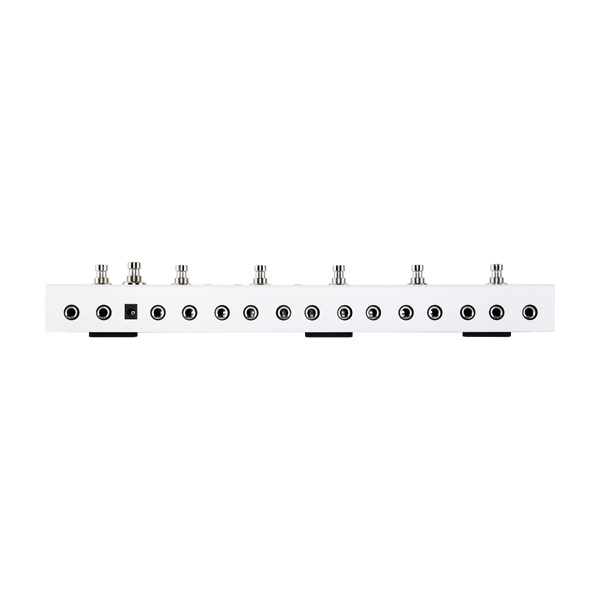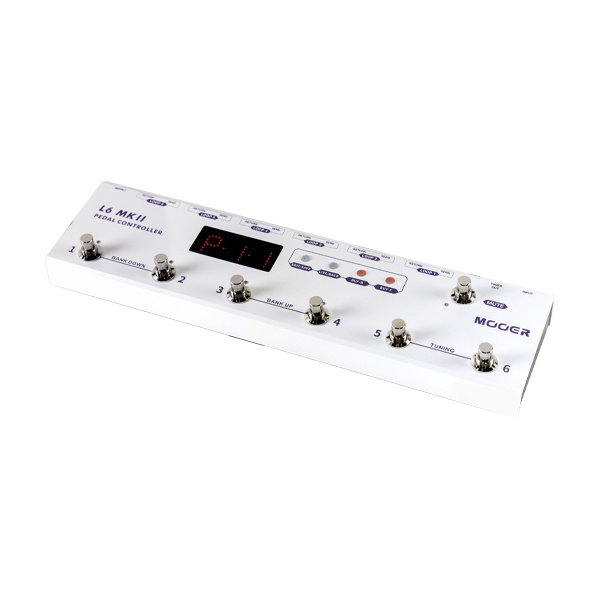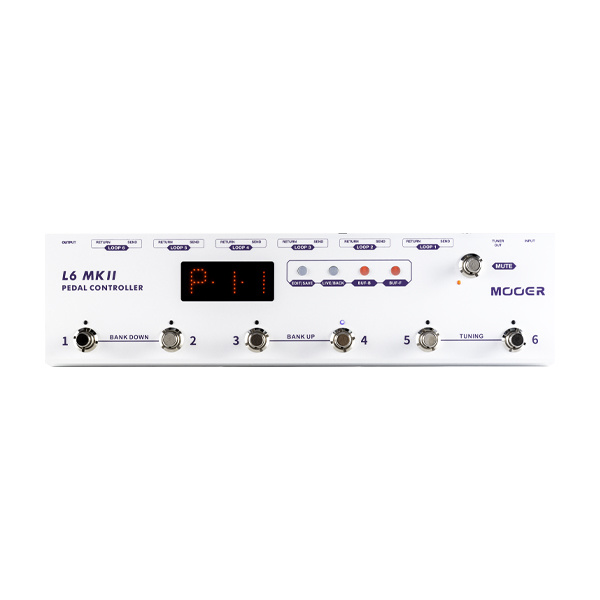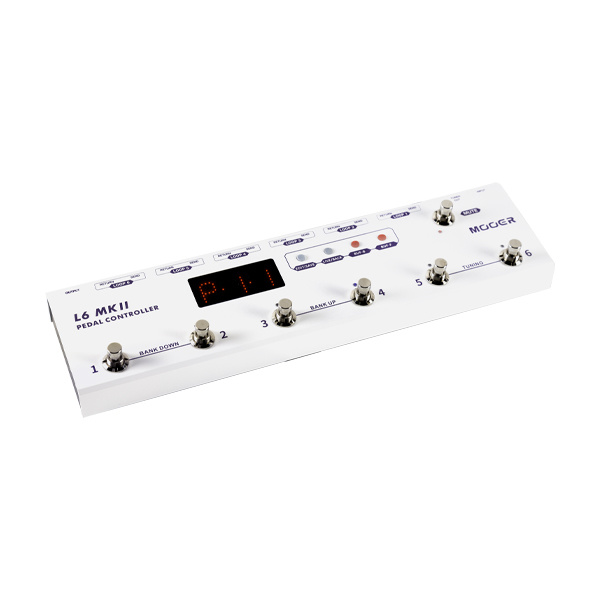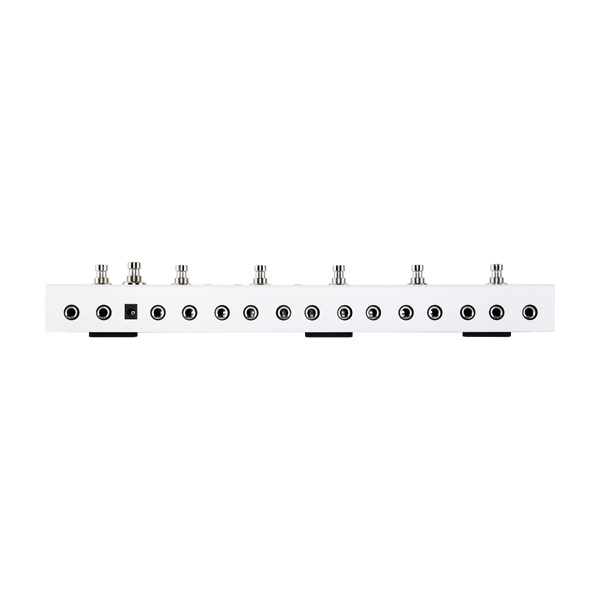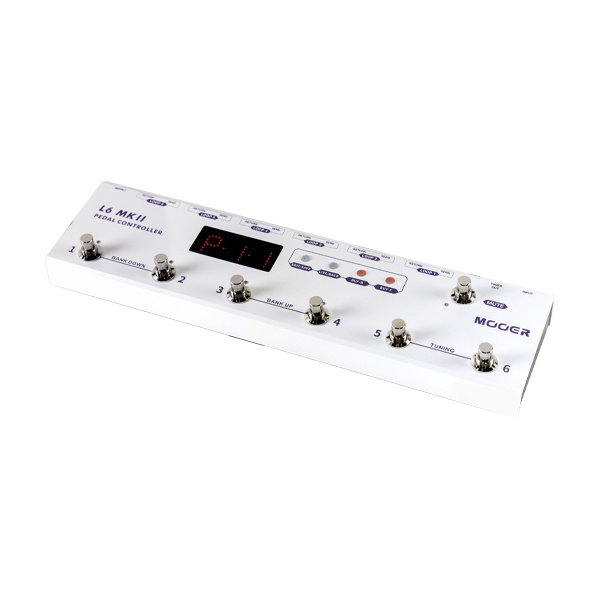 Pedal Controller L6 MKII
Programmable Loop Switcher
Featuring support for 6 effects loops with 6 presets each, the Pedal Controller L6 can enhance and control even the most robust pedal and multi-effects setups.
This latest controller allows users to choose between two ways to interact with the unit. By choosing PLAY mode, the user can save and recall up to 36 preset configurations that allow for the simultaneous engagement/disengagement of multiple loops with the press of one footswitch. By choosing LIVE mode, the L6 can function as a traditional pedalboard with each footswitch able to quickly toggle on/off the corresponding loop.
In addition to two play modes, the L6 also has the choice of a pre- or post- signal buffer to choose from to reduce impedance caused by instrument cables or other electronic interference. Without the buffer engaged, the L6 will operate in true bypass. Other bonus features for the L6 include a built-in tuner, dedicated mute switch, and large LED display panels to read easily from a distance.
Features
Connections
Specification
Demo
· Programmable loop switcher with 6 loops.

· The L6 MKII has a pre-position buffer (BUF-F) and post-position buffer (BUF-B) available for activation which will minimize signal attenuation and result in minimum tone loss in the guitar signal.

· Two modes of operation: PLAY mode and LIVE mode. This allows the user the option of utilizing the footswitches to recall up to 36 saved presets or activate pedal loops individually in a traditional manor.

· Footswitch LED for each loop make it fast and easy to see which loops are activated.

· Dedicated MUTE footswitch.

· Includes built-in tuner and supports external tuner.

Input: 1/4"monaural jack (impedance: 2M Ohms)

Output: 1/4"monaural jack (impedance: 4.7k Ohms)

Power Requirements: AC adapter 9V DC (center minus plug) 300mA, MOOER Power Supply is recommended

Current Draw: 300mA

Dimensions: 370mm (D) x 97mm (W) x 54mm (H)

Weight: 1.15kg

Accessories: Owner's Manual
· Programmable loop switcher with 6 loops.

· The L6 MKII has a pre-position buffer (BUF-F) and post-position buffer (BUF-B) available for activation which will minimize signal attenuation and result in minimum tone loss in the guitar signal.

· Two modes of operation: PLAY mode and LIVE mode. This allows the user the option of utilizing the footswitches to recall up to 36 saved presets or activate pedal loops individually in a traditional manor.

· Footswitch LED for each loop make it fast and easy to see which loops are activated.

· Dedicated MUTE footswitch.

· Includes built-in tuner and supports external tuner.

Input: 1/4"monaural jack (impedance: 2M Ohms)

Output: 1/4"monaural jack (impedance: 4.7k Ohms)

Power Requirements: AC adapter 9V DC (center minus plug) 300mA, MOOER Power Supply is recommended

Current Draw: 300mA

Dimensions: 370mm (D) x 97mm (W) x 54mm (H)

Weight: 1.15kg

Accessories: Owner's Manual
· Programmable loop switcher with 6 loops.

· The L6 MKII has a pre-position buffer (BUF-F) and post-position buffer (BUF-B) available for activation which will minimize signal attenuation and result in minimum tone loss in the guitar signal.

· Two modes of operation: PLAY mode and LIVE mode. This allows the user the option of utilizing the footswitches to recall up to 36 saved presets or activate pedal loops individually in a traditional manor.

· Footswitch LED for each loop make it fast and easy to see which loops are activated.

· Dedicated MUTE footswitch.

· Includes built-in tuner and supports external tuner.

Input: 1/4"monaural jack (impedance: 2M Ohms)

Output: 1/4"monaural jack (impedance: 4.7k Ohms)

Power Requirements: AC adapter 9V DC (center minus plug) 300mA, MOOER Power Supply is recommended

Current Draw: 300mA

Dimensions: 370mm (D) x 97mm (W) x 54mm (H)

Weight: 1.15kg

Accessories: Owner's Manual
· Programmable loop switcher with 6 loops.

· The L6 MKII has a pre-position buffer (BUF-F) and post-position buffer (BUF-B) available for activation which will minimize signal attenuation and result in minimum tone loss in the guitar signal.

· Two modes of operation: PLAY mode and LIVE mode. This allows the user the option of utilizing the footswitches to recall up to 36 saved presets or activate pedal loops individually in a traditional manor.

· Footswitch LED for each loop make it fast and easy to see which loops are activated.

· Dedicated MUTE footswitch.

· Includes built-in tuner and supports external tuner.

Input: 1/4"monaural jack (impedance: 2M Ohms)

Output: 1/4"monaural jack (impedance: 4.7k Ohms)

Power Requirements: AC adapter 9V DC (center minus plug) 300mA, MOOER Power Supply is recommended

Current Draw: 300mA

Dimensions: 370mm (D) x 97mm (W) x 54mm (H)

Weight: 1.15kg

Accessories: Owner's Manual

Download
X
· Programmable loop switcher with 6 loops.

· The L6 MKII has a pre-position buffer (BUF-F) and post-position buffer (BUF-B) available for activation which will minimize signal attenuation and result in minimum tone loss in the guitar signal.

· Two modes of operation: PLAY mode and LIVE mode. This allows the user the option of utilizing the footswitches to recall up to 36 saved presets or activate pedal loops individually in a traditional manor.

· Footswitch LED for each loop make it fast and easy to see which loops are activated.

· Dedicated MUTE footswitch.

· Includes built-in tuner and supports external tuner.

Input: 1/4"monaural jack (impedance: 2M Ohms)

Output: 1/4"monaural jack (impedance: 4.7k Ohms)

Power Requirements: AC adapter 9V DC (center minus plug) 300mA, MOOER Power Supply is recommended

Current Draw: 300mA

Dimensions: 370mm (D) x 97mm (W) x 54mm (H)

Weight: 1.15kg

Accessories: Owner's Manual