Alessio Menconi
ITALIAN JAZZ GUITARIST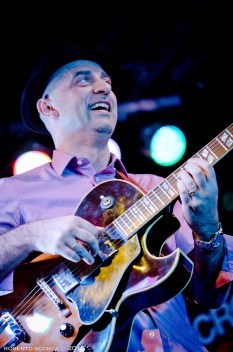 ALESSIO MENCONI – Guitar player – Composer – Arranger – Teacher
Alessio Menconi was born in Genoa – Italy, he approached guitar when he was 10 as self-taught.
Considered a prodigy, he start in 1986 is professional career with best italian musicians.
In 1992 he won the award as "Best Soloist" in Gran Prix du Jazz". In 1993 he participated in "Eddie Lang festival"contest (the most important competitions for guitarists in Italy), winning the first prize as best italian jazz guitarist.
He play in tour in Europe, Asia, Africa, North, South and Central America and recorded in over 50 cds with several musicians. In 1995 Paolo Conte call him for play in several world tour until 2004 and he recorded four cds.
In the same period Billy Cobham wanted him since to play with him in several concerts..In the same year, he have been selected in Paris to play with "ONJ" (orchestre national du jazz) In 2003, He partecipated as only italian to the cd "Voodoo crossing-a tribute to Jimi Hendrix" with Robben Ford, Steve Lukather, Hiram Bullock ,Larry Coryell and many others. Lately is leaded of his own trio and of his solo project with whom just made cds He is the jazz guitar teacher in the conservatory of music in Genoa and he teaches also in conservatorys of Livorno, Cuneo and La Spezia
Actually is one of much important and wanted guitar player in Italy and other countries in Europe.
-In 2009 he takes "Jazz lighthouse" Career award.
-In 2011 he was included (as only italian) in a cd compilations of world best jazz guitarist.
-In 2013 his cd "Sketches of Miles" was included in a compilations of best 100 international jazz records of the year.
He played in:
Italy, Switzerland, France, Brazil, Ecuador, Croatia, Russia, Palestine, Uk, Spain, Usa, Austria, Hungary, Guatemala, Belgium, Luxemburg, Holland, Poland, Nicaragua, El Salvador, Argentina, Uruguay, Greece, Macedonia, India, China, Japan, Hong Kong, Zambia, South Africa, Germany and Canada.
Some of the most important musicians he have been playing with: Paolo Conte, Billy Cobham, Jimmy Cobb, Jeff Berlin, Toninho Horta, Adrienne West, Shawnn Monteiro, Marcio Montarroyos, Stefano Bollani, Danny Gottlieb, Enrico Rava, Tullio De Piscopo, Daniel Humair, Albert "Tootie" Heath, Red Holloway, Franco Cerri, Flavio Boltro, Gary Husband, Paolo Fresu, Carl Anderson, Franco Ambrosetti, Gary Bartz and many others…
Social Media:
FB: https://www.facebook.com/pages/Alessio-Menconi/52673826738
YT: https://www.youtube.com/user/managementmenconi